Life is a Detailed Game
September 23, 2014
I'm gripping the wheel in my hands. I feel the pressure of eyes watching me and the sweat running down my face. My heart is anxious and my eyes dart all over the track ahead. My focus is blurred and my ears are full of clatter and voices. There's but one thought on my mind: win this and I'll get a golden prize.
All the racers on the starting line with me are here for one thing: to win this Grand Prix. We all want the satisfaction of a trophy and money. I'm no different from them. For me, racing is a heated battle. It's a war. A war between cars, the road, and the finish line. I've raced plenty of times before, but it's always insane.
The sweat and heat makes every pore in my body get fired up. My hands grip the steering wheel as I fear one finger might let up. My body is stiff from not moving from my seat and my feet are cramped on the gas pedal. Around me are colors and people, all boarding their race machines or cheering from the side. The sound is suffocating and too loud to even hear myself speak, even inside this mobile. Before long, I see the flashing lights above.
The lights to indicate the beginning of the race are bright and blinding. I go over the thoughts in my head, rushing around to understand what exactly was happening. My eyes panic as I realize the race is starting. I try to carefully watch the countdown, from 3 to 1 and then 'GO,' just as I had always watched it. I need to win the race in this Prix. I need this achievement.
As I focus on the lights and numbers above me, I realize my sweating palms and tight clothing. I notice the silence outside my windows and behind me. I notice I'm the only one here. As I stop thinking about the prize and gold, I stop gripping my wheel. I stop feeling eyes on me. The sounds grow smaller and quieter until I finally realize that I'm only holding a controller.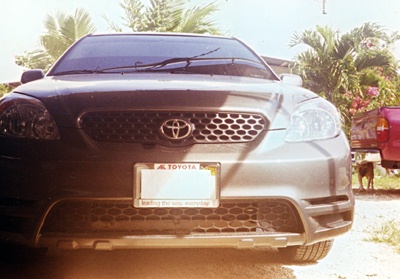 © Warlito B., Tamuning, Guam