Purple Pants on Main Street
October 21, 2014
I put on purple pants today. This morning, around 5:40 am, I put on my purple pants that have a material similar to silk. They swish, quite literally. My other two pairs of jeans, which I faithfully switch between every day, were dirty. That left me with the sexual innuendo jeans (their fly, when unzipped reads "lucky you") or the patterned skinny jeans, or my purple skinny jeans. I went with the last, matching it with a scarf, my sister's that looked like someone had taken the night sky and wrung it out like a wash cloth.

Swish, swoosh, swish, swoosh, I should have just had a parade announce, incoming teenager, approach with caution. If the skinniness of the pants didn't make a statement, the free sound affects certainly did.

After school I had to pick up some high end chocolate bars for my teachers who wrote my letters of recommendation. I wasn't too sure what to get them, but I knew the place to get the chocolate from. I live in a small town and recently a candy shop opened on Main Street. It wasn't as celebrated as I thought it would be. The effect of opening a candy shop on Main Street is the same effect as a dinosaur walking through a glass sculpture studio; you don't see either any more. I've been in the candy shop a couple times. Typically I get a small bag of jelly beans, for the variation of flavor as well as the cut in price.

But today was different. Swish, swoosh, swish, swoosh. I had to walk two blocks to get to the candy shop from where I parked. Not really a problem for me. I think I take after Elizabeth Bennet in that I'm a walker. Granted I don't walk everywhere like she did, but I don't complain when there's a lot of walking to do. When I was struggling with depression I used to walk for an hour at a time. I'm pretty much an expert now.

Swish, swoosh, swish, swoosh. Crunch, crunch, crunch. The harmony of the autumn leaves under my year old flats mixes with the sound of my pants to create a symphony. It's October, the color of the trees are changing. I never want fall to end. The leaves sink like the flakes in a snow globe. They make rhapsodies to those fortunate enough to have the luxury of walking by. Everything is orange in the fall. And everything is pumpkin. Even the leaves mimic it's bright, bold, almost presumptuous color. They continue to crackle under my feet all the way to the shop.

A couple walks out eating ice cream. I'm surprised. It's three o'clock in the afternoon. Not many people are around, especially to buy ice cream from a candy shop. I walk in. Someone is sitting at a table; at first I think they're eating ice cream. I walk past them. The candy bars are in the back, the high end ones anyway. It doesn't make sense to get my teachers anything less. They've put so much work into making me look good; I should at least try to return the favor.

After several minutes of pondering which bars to take (including walking back and forth) I decide. A standard milk chocolate bar that's wrapped in white paper with a faux wax seal on the front, and a coffee chocolate bar that's wrapped in brown with the same seal. I think it will satisfy them both. I debate whether I should get anything for myself. Candy is crap to be honest. Yet it tastes so good. My tongue is a powerful monster. It tries to make me look as fat as possible by gorging itself on the delicious and decadent tastes of pies, cakes, and cookies. No jelly beans today, maybe a crunch bar? Nope.

Then I decide on a white chocolate Lindor ball. The exact ones I used to get every once in a while, like the ones that look like a gumball that's been gussied up for some "thing-to-do." It is fifty-five cents. I take it. I walk up to the register but no one is there. I look over at the woman sitting at the table. She's not eating ice cream. Inside she's writing on a clip board. She looks up at me. She stands up and walks toward me. I hope she didn't see all my walking back and forth because I couldn't decide.

"Find everything?" Yes, as a typical response to a typical question goes. I apologize for all the one dollar bills. She brushes it off like a piece of stray lint on a coat shoulder; she's been paid in change before. As I leave I hear her singing to the music playing in the background, the music that's supposed to be ignored.

Part of me pities her, all alone in the dinosaur. I feel glad that I went in and bought something. It at least kept her somewhat busy. I walk back to the car, going down the two block stretch of sidewalk. After the first five steps I pop the milk chocolate ball into my mouth. I put the wrapper in the bag with the chocolate bars. I savor the taste, a sweet sticky taste, like warm chocolate. I gum it for a while, listening to the crunching of the leaves under my feet, as if encouraging me to keep walking. I pass the donut shop; I've always wanted to go in. I cross the street, and pass the small cathedral that looks like the outlier out of the whole street, with stain glass windows and a wooden arched door. I've always wanted to go in there too. Next to the cathedral is the fountain. I took some of my senior pictures there. Someone's strung cut out wax paper across the narrow alleyway between the cathedral and the music building, letting the paper stretch over the fountain. I wanted to come back some day and write there. It'd be the perfect place to right.

Curled up next to the Music building is a little box on a pole. It doesn't seem that important to the average people, but to me, it was a hidden treasure. The chocolate taste is almost gone, my tongue is satisfied. The box is a mobile library; you take a book and replace it at a later date. I took a book once, by Conan Doyle. I never replaced it. The box is empty now anyways. I felt a pang of sympathy for the empty box, passed over day after day because people assumed it was unimportant. I walk on. I pass the music places, right next to each other, and surprisingly they haven't pushed each other out of business. I crunch my way down the side walk. I pass the photo store, where surprisingly one of my friend's photos is in there. Her dad is a photographer, so it isn't that surprising.

I swish down the sidewalk, farther now, passing the grill and other restaurants, passing closed down buildings, passing the yarn shop that can only be accessed from the back, the chocolate now only traces in my mouth.
To the average person, these may be only stores to pass. Yet, they are storytellers. They're stories are hidden, the gems within the mine. Only if you take the time and energy to cautiously and carefully chip at them will you be able to clutch them in your claws. I turn left just before the used book store, a place I go to probably once every five or six weeks. The crunching stops. There aren't any trees down the alleyway. I walk under an arbor and clutch my clutch a bit harder as I pass a man sitting on a bench wearing shades, worn pants, and a sleeve-less shirt.

"Hi." He tells me and smiles. I return his hi. Perhaps he was a nice guy after all. I glance over my shoulder a couple times just in case. In this world, who can you trust? Yet I get into my car, the chocolate is gone now. Yet I do not feel sad. I've crunched and swished my way down Main Street, but really I've crunched and swished my way down London or Paris or Egypt. It's an adventure anyone can find, if only they take the time to look.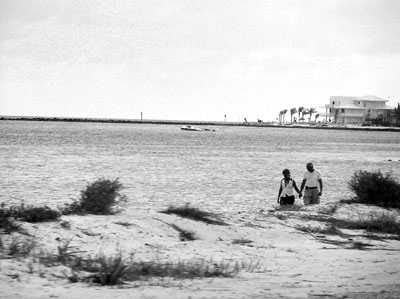 © Edgard B., Coral Springs, FL