My Resolution
December 5, 2014
A lot of times when speaking about helping people they think about donating food to pantries, participating in fundraisers for charity, or things along those lines. Some even travel to third world countries to help children and fight adversity for others. I happen to love volunteering and joined the Key Club at my school. The first month I was super pumped and signing up for multiple events each week, but eventually I didn't have time and squeezed in one event just to meet the minimum 2 hour per month requirement. Volunteering makes me feel like I made a small impact on someone's life, even if it was just making them smile for a few seconds. But today at school I realized there were other ways to spread happiness and get the same pleasure of seeing people smile than volunteering. Then I came up with my resolution.
1.  Don't be afraid to compliment or encourage people.
I'm a really shy person usually. Sometimes I think, "Oh that person's haircut is really cute!", but I don't say anything to them.
Today my science teacher came back from a sick day and I could easily tell she still wasn't feeling so well. Her voice had taken on the tone of a frail old lady who seemed more fit to be knitting in a comfortable rocking chair than teaching high schoolers about the digestive system. It was whispy and soft, I was afraid she'd lose her voice any moment. I wanted to tell her, "You can do it Mrs. R!"
And to my surprise, after class I did manage to muster up the courage and say "I hope you get better." She was talking to another student, but she turned to me and said thank you. There was this warm feeling you get that you can't get from buying a pair of shoes on Black Friday, even if they were 50% off.
Another way I was able to get this addicting warm feeling was just as easy as saying a get well.
Everyday at lunch, the lunch ladies would hand me a plate of the daily special and say "have a nice day". I loved it. It didn't matter if they said it to everyone habitually after handing them a plate, I replied each time with a smile and a "you too". In fact I even made sure to say everyday to the cashier "have a nice day" or "have a great weekend!". It felt amazing when they replied back with a smile.
2. Hold open the door for people.
It seems simple and the logical thing to do, but sometimes I debate whether it'd be worth it holding the door for someone when they are seen so far away. It also doesn't help when I am racing the bell or was going to miss the bus.
Today I did something really terrible. As I was walking out of the science wing all happy that I said a "get well", I opened the door to catch up on to the buses waiting outside. As I left I glance back and saw a teacher on crutches. I've only seen him in the hallways because he stands out with his crutches than are attached to his arms and the slow way he must swing one arm forward then another to move through. I immediately felt bad after, but it wasn't until after my first few steps down the stairs that I realized, "It's not fair that he has this disability and I would be a terrible person to let his struggle with opening the door."
I walked back and tried opening the door, but it was too late. The door locked by itself. I stood there in shame as he got closer to one of the doors and nudged it open with his body. I immediately took the door after it was opened and held it open so he could walk through.
I can't explain the feelings that came to me when he still thanked me after I had left the door closed. From now on, I promised myself, I'll always hold the door behind me if I see anyone behind me. Even if I have to wait a few seconds and need to stand holding the door, it's worth it.

These are personal resolutions that I made for myself today, and I hope to follow it through, if not for the rest of my life, this year.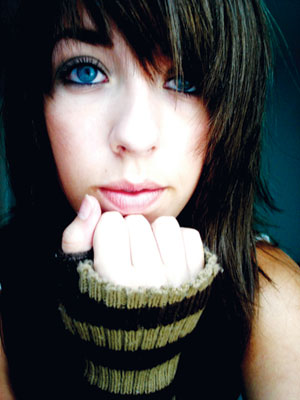 © Brit H., Peabody, MA