The Birthday That Never Happened
MAG
I've had some memorable birthdays in my 16 years, but one in particular stands out. I was 10 and the social butterfly of the fourth grade when my mother asked what I wanted for my birthday. I told her I wanted a big party and to invite everyone in my class. I was overjoyed when she agreed.

My mother and I began making preparations. At school, I handed out invitations and everyone immediately began talking about the party. I was so excited that everyone was looking forward to it. My mother said she would order pizza and she bought plenty of soda and chips, even party mix CDs to provide the fun (my idea). She made up goody-bags, filling them with whistles, fruity Tootsie Rolls (also my idea), noisemakers, and bubblegum. She decorated the house with streamers and balloons.

Not wanting to sound too excited or full of myself, I didn't talk too much about the party at school that week. When the day arrived, I felt elated with anticipation. Clad in my fancy party dress and shiny buckle shoes, I danced around the house. As four o'clock approached, my mother told me to relax so I sat and stared at our grandfather clock. Its torturous tick-tock tormented me and made me more anxious for the festivities to begin. I endured the repetitive, rhythmic movement of its pendulum for ten minutes, wringing my hands and getting more agitated with each minute. Finally, there was a knock at the door - it was my friend Maggie. (She was more of an acquaintance, but at that moment she was elevated to friend status.) Little did I know that she would be the only one coming.

When another hour had passed, I knew no one else was coming, not even Travis, the cutie pie I had a crush on. My mother tried to make the best of it and encouraged us to have fun so Maggie and I ate pizza, chips and soda. We watched "The Lion King" while my mother put my cake in the fridge; what was the point of singing "Happy Birthday" and blowing out candles if no one was there? The CDs that were supposed to "provide the fun" were put away as well.

When Maggie left, the gravity of the situation hit me. No one had showed up. I felt tears welling and slowly they worked their way down my cheeks. I overheard my mother on the phone whispering, "She feels terrible, no one showed up ... they could have at least called." She began to raise her voice in frustration and swear, which only made me want to cry even more.

When she got off the phone she declared, "We are going to pick up Aunt Debbie and go to Friendly's." I wasn't in the mood to go anywhere, but I, too, had to "make the best of it." Later that night, we did bring the cake out and sing - my aunt, my cousin, my brother and sister, my mother, and me.

As I lay awake in bed that night, the day's events replayed in my mind. I'm never going back to school again. I hate all those stupid kids, I told myself. For two days my mother allowed me to stay home but I knew I had to go back to school eventually and face my "enemies." When I did, I fell into a cocoon of silence, not talking to anyone, not even the teacher, which got me into trouble. I began to open up again as time lessened the pain and soon I was back to my "butterfly" self.

Though I have had 16 birthdays, none was as memorable as the birthday that never happened.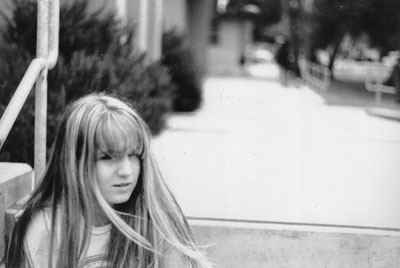 © Alyssa R., Pacific Grove, CA