My First Party
February 11, 2016
My lucky number has always been 14. My mom bought me a purple long-sleeved shirt when I was 6 with the number "14" on the back and front, and for some reason, I had this gut feeling that my life would change at age 14. I had always been so excited to be a teenager – I would get to go to parties, go on dates, have a boyfriend, drink alcohol, drive, etc. It seemed like pure bliss at the time.

My freshman year of high school – when I was 14 - was a year I wish I could completely remove from my mind. I was virtually drowning in depression; I would isolate myself from my family and sleep the weekends away. Though my parents' divorce was probably the catalyst, it was medical. It came, and seven months later, it passed. But those seven months were filled with regret.

One of my "friends," K, took me to school every morning. She was a junior and promised to guide me through my freshman year. She was one of those popular girls – she went to parties every weekend, hooked up with guys, and drank. In February 2015, she asked me the question I had waiting for all year: "Hey, do you want to go to a party with me?"

I was instantly excited. A party. I couldn't wait. I would finally get with the "in" crowd and understand what it's like to be one of them. K came over to my house while my dad was out at a bar. "Remember to wear lace panties. Guys like that. And a lace bra, if you have one. Here, I'll show you how we can sneak out." Once she said that, I felt uncertain. My dad knew we would be going to a party the next day. Why should we sneak out?

"We can come home whenever your curfew is, and then sneak out and drive back to T's house," she said. T was the initial host of the party. I still said no. "I don't think that's a good idea, but we'll see." The next night, she came over and began to rummage through my cabinets. Upon discovering the liquor cabinet, she rinsed out a water bottle and began to dump large quantities of every type of liquor into the bottle. "Don't worry. Tonight will be fun," she said.

We got dressed, did our makeup and hair, and drove 15 minutes away to T's house. I had no idea what to expect. When we got there, T came up to K and I. "Who is she?" he asked K, glancing at me. "This is my friend. She's a freshman." He looked at me and took the bottle of liquor from K. We got into a car with him and three other guys, and passed me an empty water bottle with a hole burned at the bottom. "Come on, smoke," T said. I looked over at K. She nodded. "Do it." As soon as I inhaled, I started to cough uncontrollably as the burning sensation pierced my lungs. K handed me the bottle of mixed liquor, and I took a swig of it, barely swallowing it.
After ten minutes, we got out of the car and I practically collapsed immediately. It was such an intense mix of feelings and perception, and at first, I didn't like it. We went into T's house and I sat there and played with the cat while they played beer pong. Normally, I would feel very uncomfortable, but the immense intoxication made me too giggly to care. The guys sat around and drank, and T started to touch K. I averted my eyes and picked up the cat, trying not to engage in their sexual tendencies.

About an hour later, we left T's house and went to R's house, who lived just 5 minutes away. I almost lost K as we walked in. We entered his bedroom, which was a massive room with probably a dozen other guys from my school. There weren't any other girls. I felt a bit intimidated. K and I sat on the edge of his bed and I tried to distract myself and seem unapproachable. 10 minutes later, one of the guys, C, grabbed K's hand and left with her. I guessed that they were having sex. So, there I was, in a room with 11 teenage boys. I was scared I would be raped. Thankfully, though, nothing happened. 20 minutes later, K and C returned. It was nearing 11 p.m. – my curfew – and K was too drunk to drive, so T drove her car home with the other guys following behind. K sat in the passenger seat, I sat behind her, and R sat behind him. When I got in the car, R reached over and grabbed my butt. I slapped his hand away, shaking my head, and looked out the window. We started to drive away, and when I looked over, R had his schlong out and was masturbating as he stared at me.

Anyone can succumb to peer pressure. All those PowerPoints they show you during elementary and middle school are worth a shot, but I kept telling myself as I sat through lectures on peer pressure that I would never do that. I'm an A student, president of a club, and volunteer. That would never be me. But it was. I was curious, so I experimented. While it was mainly fueled by the onset of my depression, it's clear that anybody can make stupid mistakes. Please, please think about your actions. I learned the hard way.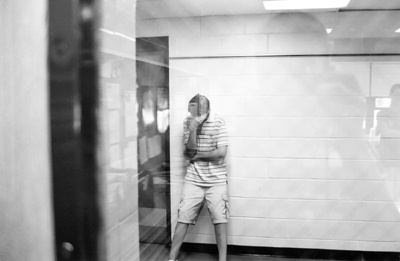 © Kyle W. Pompton Plains, NJ