First Year Thoughts (and a bit of advice as well)
June 19, 2016
About a week or so before classes ended, I was having lunch with my mentor, when she asked me a question that went something like this: Now that you've gone through your first year, is there any advice you would give to yourself before you started college? (Or something along those lines)

I had to think about it for a while. Honestly, I couldn't come up with anything. Then I started thinking about what I would have like to have been reminded of, and a few things came to mind.
1) Always try to keep an open mind. If anything, this is a vital piece of advice I would give to any incoming freshman. Many people come to college without the slightest notion of what they want to do. They might have an idea sure, but nobody knows for certain where they'll end up in the next four years. If you find that you might prefer another major more than the one you started with, go for it. There's nothing wrong with finding out you'd rather do something else.
Don't be afraid to explore the world around you. You will see, hear, and experience many things that you're probably not accustomed to, and that's totally fine. You learn just as much, if not more, outside the classroom as you do in it.
2) That being said, stick to your morals. Don't change your values, ideas, or anything else just to conform to what you think others might want. If you feel something about you needs to be changed, do it for you and no one else. Being true to who you are is the best possible thing you can do for yourself, and everybody else around you.
3) Don't be afraid to ask for help when you need it. Whether it be on homework, relationship advice, concerning your mental health, or anything that's troubling you. It's easy to think that everybody around you doesn't have any sort of stress when all you see is the smiles and laughter when you're hanging out with your friends. Trust me, they're just as worried about their essays, practice problems, and exams as you are. If you need help, there will always be someone to give it, whether it be your friends, a professor, or just someone you can confide in.
4) Remember to take a step back for a while. It's easy to get caught up in being busy, so it's important for you to give yourself time to breathe. Join a club or two, hang out with friends, or just go for a walk. Do whatever you want that helps you relax. I'm lucky enough that my major can give me a temporary escape from what's giving me stress, but even then I have to step back and do something else. If it just means laying on the floor and staring up at the ceiling for fifteen minutes, go for it. Do something -anything- that can help you relax.
5) Last, but most certainly not least: Never give up. Don't let yourself get discouraged. It may seem like the world is against you, but never stop trying to make what you want a reality. The only way I can explain this is to give a personal example. I'm majoring in Theatre, with a focus in performance (basically just a fancy way of saying I want to be an actor). My first semester here, I auditioned for whatever I could get my hands on. Didn't get a single part. Truth be told, I started doubting myself. How was I going to be a performer if all I kept getting were rejection emails? Then one day I got an email from my advisor about a class that would be offered in the spring. It would be in collaboration with 2 theatre companies and the University, and the production we'd be working on was Alice in Wonderland.

We would have to do an audition.

I almost didn't do it. Almost. You see, I hadn't given up yet. The way I saw it, I could either audition, and have a chance at getting cast; or not audition, and have no chance at all. So I did it, and I can't tell you how happy I was when I got that email saying I'd been chosen to be a part of the show. All that waiting and auditioning had finally paid off, it just took longer than I had hoped it would.

I guess what I'm trying to say is: Don't let your doubt, and even fear, be the reason that something didn't (or did, depending on what your situation is) happen. Don't be afraid to take that leap. Strive to do bigger and better things. And if you come across an obstacle, find your way around it.
Keep your mind open, stay true to yourself, and never tell yourself something is impossible. I've learned a lot more in me first year here, but I think this covers the essence of it all.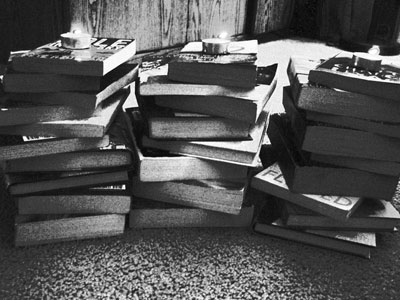 © Alexis R., Clarkdale, AZ