Little Baller
April 10, 2019
I played the game of basketball since I was a little youngin'. Throughout my elementary school days, I was the star player of the CYO team. I was repping the number 12, for the town of Hampden. It was a dream of becoming a pro basketball player the first time I picked up a ball. Then in 8th grade, I decided to try out for a suburban team, and I made the A-team. It was probably one of the best decisions I have ever made in my life. Not only was my basketball team a group of girls who just wanted to play the game of basketball, but we were a family too. All of us were really close to each other and everyone had each other's backs. There is just something about being in a team that makes you feel like home. There was one particular practice that I will never forget and how it gave me insight into my life.
I put my Nike socks on my feet and slid on my brand new red and black Lebron Soldiers 11. They fit my feet like gloves designed specifically for my feet. I was pumped up for my first practice of the season. I was in seventh grade. I started jumping up and down, I was ready to do my best and improve each practice. My dad was in his truck honking at me to hurry up. I darted into his car and off we were going off to Wilbraham Middle School. I was one of the first people there and I was looking at the time strategically planning on when to get out. When cars started to roll in the parking lot I jumped out of the car and said my goodbye to my dad. He shouted, "Have fun!", while he was driving away. Little did he know it wasn't going to end well.
We all greeted each other and we were happy to be on the team. We talked about how we were going to be the champions by the end of the season and I had faith that we could do it. Coach and Addie arrived just on time and lugging a huge sack of balls over their shoulders. We entered the gym and with every step we took the floor squeaked and it sounded like a bunch of mice were getting stepped on. The smooth, tan court looked like it was slathered with polished clear nail gel. There was a circle in the center of the court and looking at it made me look back at going against my opponent in the jump ball. As soon as the referee would toss the ball up, we would hop up and try to slap it back to our teammates. I would pretend that my bratty little brother was the ball. I couldn't wait for the season to start.
We practiced a lot of things like our layups and foul shots. I made almost all of them and I felt proud of myself. The only thing that I found difficult was those darn three-pointers. Basically, no one on the team could make them, even our coach had trouble making them in. The balls would fly through the air like birds trying to dodge bullets from bird hunters. Sometimes the ball would rebound from the wall and get revenge on us. The balls would bounce back and knock us down. Not only did we get knocked down by the balls flying off the walls, but sometimes we would hit the balls at each other. Everyone would accidentally keep on hitting people with the ball when we were passing, we would pause for a second and then all roll on the court laughing. Our team was bad but we knew we were going to get better with practices over time.
Time was ticking and practice was about to end before we left we did our foul shots and we would all rotate in a circle. If you missed the whole team had to run and if you made it we were safe. After someone missed a shot, we would all moan and groan and hear the shooter repeatedly apologizing for missing the shot. It was the last shot and the person missed. This time the coach wanted to join in and race us. He counted down, "Three, two, one, GO!" We all were sprinting so fast it looked like we had no legs. We were roadrunners trying to escape from the coyote. Coach Fitz and I were one on one now. He was a tad bit ahead than me and at the last second, I used all of my energy and pushed through. The brick wall was getting closer and closer to me. I went into the wall like I was about to kiss it, but the feeling of a kiss was not present. The only feeling I felt right then and there was pain. I could not move my arm and I felt like it was the end of the world. I kept my tears in with pride and I was proud of beating my coach. I learned that day that through the pain you can still have your pride.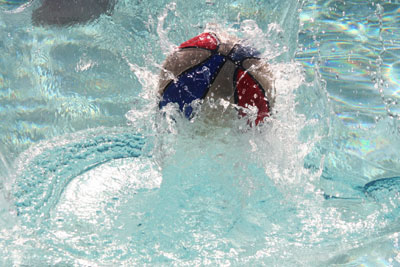 © Justin W., Cape Town, South Africa