Ethan
September 23, 2019
The boy blasts another perfect ball out of the box to save a would be goal. He feels like he is going to be the next best defender in the world, the next Paolo Maldini or Sergio Ramos. As he kicks it away, all the eyes in the stands focus on him and cheer for what he has done. But in reality, this isn't his focus--improving and making Varsity is.

He thinks, it wasn't that great of a kick, in fact it was a normal thing that all defenders should do. He knows that he has been training hard, and there have been set backs from it. Bloody ankles and toes, cuts and scrapes from falling and getting stepped on. He is tired and is losing hope of getting called up, doesn't think he is good enough to make it and isn't ready, but keeps on pushing. He knows that he can't take it easy if he wants a chance at Varsity next year.

In English, the boy's, name means "strong, enduring, and thick." He knows that he will make Varsity Reserve again if he doesn't keep strong and endure the hard work and hours of practice each week and pain to fulfill that dedication to himself. There are weeks where he thinks if he plays like this, it's automatic to make it, but there are also others where it seems like he belongs on Varsity Reserve. He is getting discouraged.

Throughout the year, there have been times where he has wanted to miss offseason workouts or practice. He is in pain and doesn't feel like putting in the work anymore. He thinks, free time and relaxing would be a lot better than sweating in the hot sun. It would be easy to not train when he gets home and sleep instead, but he can't. He can't because his dad believes in him that he will endure and have the strength to keep pushing, to make the team. He thinks of this every time he wants to slack off, but knows better and keeps working hard. He knows that by practicing his touches, his shooting, going to the workouts and the practices he can make the team, and succeed.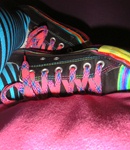 © Melanie R., Milpitas, CA