What Could Have Been: The Story of David Thompson
August 27, 2021
Before Michael Jordan was crowned 'His Airness', there was a player who electrified the NBA with his own high-flying, above the rim style of play. Thompson's legend first started in college at North Carolina State, when in his freshman season, he led the Wolfpack to a 27-0 unbeaten record. In the 1973-74 season, Thompson led the NC State Wolfpack to victory in the NCAA Tournament, winning the Most Outstanding Player during the tournament. He is also credited as the progenitor of the alley-oop pass along with teammate Monte Towne. Thompson averaged around 27 points and 8 rebounds over his college career on 55% shooting, earning his place as one of the greatest ACC conference players of all time.
In both the NBA's and ABA's 1975 Draft, Thompson was selected with the first overall pick, and he ended up signing with the Denver Nuggets of the ABA. In his rookie season, he made the ABA All-Star game, was a part of the All-ABA Second team, and won the Rookie of the Year award, all while averaging 26 points, 6 rebounds and almost 4 assists a game.
After Thompson's rookie season, the ABA merged with the NBA, and Thompson's Nuggets were one of the 4 ABA teams who became a part of the NBA. He continued his All-Star form in the NBA, making it 3 consecutive times between 1977 and 1979. Thompson also made the All-NBA first team in 1977 and 1978, and won the All-Star game MVP in 1979. In the 1979-80 season, Thompson was primed to make his 4th consecutive All-Star team, but a season-ending foot injury scuttled his plans, and forced him to miss the remaining 38 games that season. 1980-81 saw a return to form, with Thompson averaging 25.5 points a game. Despite not making the All-Star team that year, Thompson seemed to be back to his old, electrifying self. However, he dipped in the 1981-82 season, scoring only 14.9 points per game, which convinced the Nuggets to trade him to the Seattle Supersonics.
Thompson's first season in Seattle was tumultuous, making the All-Star for the first time since 1979 while averaging only 16 points and undergoing rehabilitation for a substance abuse problem after the season. His 1983-84 season was troubled, managing to play only 19 games and missing most of the season while attending drug rehabilitation. Thompson's career would end on a dour note, with a knee injury suffered in a fight during the 1984 off season ultimately ending his career.
Thompson's woes were not finished after retirement. After a failed try-out with the Indiana Pacers in 1985, he was arrested for public intoxication, and was rumored to be spending in excess of 1000 dollars a day on cocaine and myriad other drugs. His life finally changed for the better, when he resolved to reorganize his life after being arrested and sentenced to jail in 1987.
Thompson's story was that of a promising young player ruined by injuries and addiction, a star that burnt bright, but faded all too quickly. Despite not ever reaching his potential, Thompson still made an indelible mark on basketball, inspiring the next wave of above the rim finishers, Michael Jordan and Dominique Wilkins among them. For his achievements, Thompson would make the Basketball Hall of Fame in 1996, and have his story immortalized forever.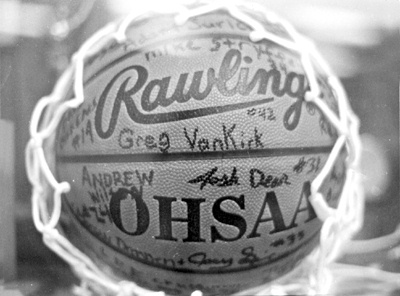 © Kaley D., Sebring, OH