Inhale, Exhale
MAG
Inhale. I rub SPF-50 onto my skin, gather my loose mane into a ponytail, and play dress-up in woman's confidence. Nearly a year has elapsed since I last found myself fretting on these sidewalks of downtown L.A. I lace up my battered running shoes and pin on a mustard-yellow racing bib, Number 5117. Am I ready for this? Can I really run 26.2 miles in one day?

As my stomach struggles to suppress mutinous butterflies, I smile knowingly. Rather than focusing on the inevitable blood, sweat, toil, and tears as I had a year earlier, I resolutely slip on a pair of rose-tinted binoculars and marvel at my surroundings instead.

"Good morning, runners, and welcome to the twenty-first annual Los Angeles Marathon!" gushes the announcer, insensitive to my unease.

Willing my nerves to behave themselves, I direct my rose-tinted binoculars skyward, where the sun flashes its yellow teeth at the exposed skin of thousands of runners, each awaiting the gun to signal the throbbing of over 25,000 hearts. The streets of downtown, growing as fidgety as a child with each flicker of my digital watch, heave an audible sigh of anticipation.

The smug starting pistol sneezes into the air and my eager feet advance, blotting out each insecurity, each uncertainty, each hesitation.

Shush, my mind commands. It's just a few miles, a mere jog in the park - not a formidable 26.2 miles, the distance that belongs to Pheidippides and gazelle-like Kenyan runners.

Obediently, my legs kiss the pavement with each step, first tentatively, then hungrily with greed to vanquish Father Time with each defiant act of gravity.

Mile one is a cinch and my legs easily propel me forward through the first half of the marathon. My ears and eyes welcome the presence of ad-libbing, impromptu cheerleaders. I witness Elvis impersonators, marathoners decked out in costumes, and married couples toiling together. I run by USC in all its Trojan glory and, inspired by the empowering red buildings, I press on.

Picture a million spectators dotting downtown Los Angeles' canvas in strategic clusters, brandishing bright yellow "GO!" signs and cheering weary runners. As I high-five dozens of kids and send thumbs-up signals to my fellow runners, I quell my internal criticism. How can I berate myself for not going faster when I am focused on absorbing as much as I can of my surroundings? Mental commitment does help, though.

If you can force your heart and nerve and sinew

To serve your turn long after they are gone,

And so hold on when there is nothing in you

Except the Will which says to them: 'Hold on!'

I repeat my four favorite lines from Rudyard Kipling's "If" quietly as my tortured thighs denounce my obstinate brain in Mile 17, cursing it for being an impractical conformist.

Run, run, I think. And so hold on when there is nothing in you ... No, don't think, just do.

My puppy-dog crush on running started the summer before sophomore year. Over time, I fell in love with this internal versus external private sport, my ambitious heart versus my aching muscles. I learned about glycogen depletion, carbo-loading, cross-training, proper mileage, and tapering off; I joined cross-country, track, and Students Run L.A., a program that trains low-income students to run the L.A. Marathon.

Reality emerges as I slap high-fives and swallow cups of Gatorade and water along the way; I experience short energy boosts. Alas, this motivation is fleeting as my aching muscles approach mile 25. One more mile! Only one more mile!

After running for nearly five hours, the sights of Los Angeles blur into a phantasmagoric snapshot of light blues and intense yellows and vivid greens. I love this city, these faces of encouragement that I may never know but can feel close to nonetheless. I love knowing that I am running on the audience's energy as I finally sprint to the finish line. Exhale.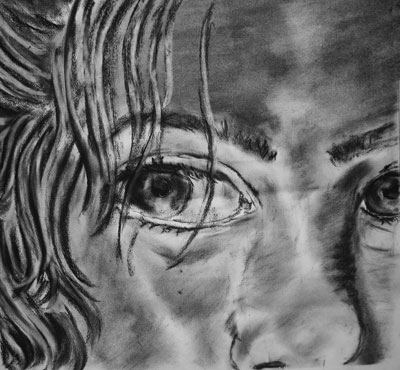 © Anonymous