Tennis
November 23, 2011
I swung at the ball with all my might, all my force and power and energy into that one shot, and BAM! Not only did it go over the black net made of thick string, but it also bounced so lightly and only once and by its second bounce in the service box, it was dead. My opponent failed to return the shot on the first bounce, and in realization of this, he threw his racket hard at the ground and swore a couple of words, I was so glad I had not been raised where tennis was everything to me.
I had won that point, and it was now his serve, he took a shot, and missed, his second serve was fast, it came to me like a lightning bolt, and I tapped it just enough to make it go over the net, surprisingly, it landed in "no man's land." I loved this game, because every moment was so suspenseful, and if not suspenseful, nerve wrecking because you are trying to desperately to hit the shot over the net and in.
The game of tennis starts with a big green court, separated by many lines. The net lies in the middle, and all that you need to know in order to understand the game is that in each "set" there are four to six "games" depending on how much energy you have to give on that certain day. Also, in each "game," there is four points, they are: "luv, fifteen, thirty, and forty." "Luv" means zero, "fifteen" means one, "thirty" means two and "forty" means three. The server's score is always called first, and there are two serves per serve. So it would be one serve, and then if that went out, the next one would be second serve, and then you would move half way across the court to the other side.
To understand more about tennis, go to "La Jolla Beach and Tennis Club" the website, or google the game of tennis, and you will surely find what you need to know. Thanks for reading and maybe you will be playing tennis someday!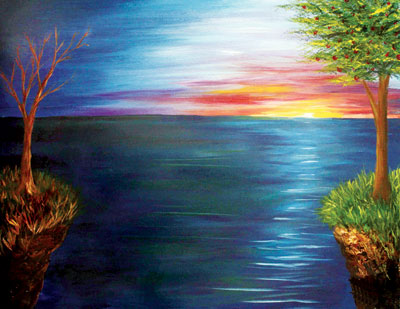 © Ariel G., Moses Lake, WA