Parasailing
MAG
March 5, 2015
Fear engulfs me as I clench the thick, black harness. All I can register is the roar of the ocean surrounding me. Nervously I chew my parched lips and taste salt water. Right before me, two siblings had crashed and almost drowned in the ocean as they were descending. All the more reason to be tense and shaky. Suddenly, I am jerked roughly 800 feet into the air, the ropes straining against my legs and under my arms. I think about the teenagers before me and wonder if my experience will turn into a debacle like theirs did. Above me I hear the multicolored parachute catch and billow in the breeze, keeping me in the air. I squeeze my eyes shut, not wanting to see the ocean below, but curiosity overwhelms me.
Tentatively, I open one eye and then the other. Many shades of blue overpower my vision: a crystal clear sky and a deep, shadowy ocean stretch as far as the eye can see. Tinted patches of coral and fish dot the water below me, and picturesque clouds drift through the heavens above my head.
The motorboat cuts through the water, hauling me behind it with a rope attached to my harness. It seems like a child's toy, bobbing and floating in a capacious bathtub. Beneath me rumbling waves crash against each other, and the muted engine drones. Fresh and fishy air wafts up to my nose, and I slowly inhale. The seascape is awe-inspiring. I don't want to go back down.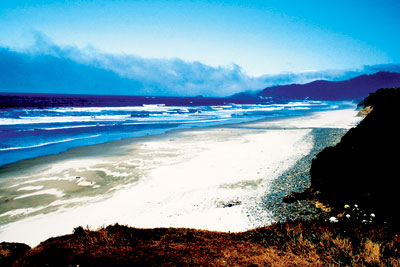 © Kristin R., Los Altos, CA