Nose Ring
MAG
Growing up in the United States as an Indian girl, the idea of wearing a nose ring captivated me. When I learned that this tradition came from India, I sought parental approval. To my surprise my mother asked me to talk to her once I had learned the underlying significance of this age-old custom. Surprised and a little disappointed, I nevertheless agreed.

I once believed that traditions are handed down through the generations and to question them was a sacrilege. This particular custom has existed in India for centuries: girls get their noses pierced primarily as they come of age or during their wedding ceremony. I took up the challenge to reach a decision. Unknowingly, my mother had started my quest for my personal Holy Grail.

I started looking for authentic sources that could help me understand the background of nose piercing. That summer while visiting India, I began my quest. My friend's great-grandmother enlightened me about the shocking facts underlying this ubiquitous tradition. Her voice rang out with pride as she told me of a farmer who had acquired a new herd of cattle. He realized he could pierce their noses, slipping giant hoops through them so he could control and guide them. This practice was soon adopted by his village elders as part of the wedding ceremony: the nose piercing would symbolize a man's control over his wife. Anyone meeting this wife after marriage would know that she had an owner: her husband. This venerable tradition showed that everyone knew a woman needed to be "guided and protected" by a man! The most common nose rings are golden hoops with intricate designs to hide the bitter reality of control.

I could not honestly perpetuate a tradition that demeans a woman's status in society, branding her as the property of a man. Learning how the custom arose drastically altered my thinking about nose rings as fashion statements.

I had made my decision: I did not want my nose pierced. After all, the quest for the Holy Grail is about self transformation and personal liberation. I had found my Holy Grail in this issue. I am now of the unalterable view that one should look at traditions in the context of their genesis and not propagate them blindly. Those traditions that militate against human dignity or are discriminatory or unjust should be ended to ensure social equality.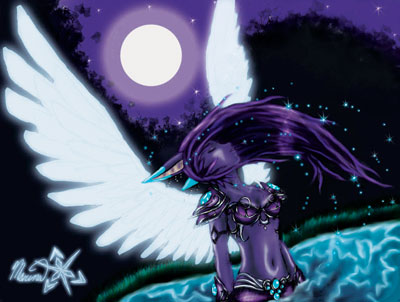 © Kelly K., Fort Collins, CO