Isn't It All?
MAG
September 14, 2010
I was standing, again. My feet felt as if I'd walked a billion miles. Or so I thought. I'd never walked a billion miles, had I?

When my mom glanced away, I reached up and furtively undid the necklace again. It was itching. I didn't care if it looked pretty – it wasn't comfortable.

I couldn't be too upset though. My stubby 6-year-old toes were wiggling inside plain, completely flat shoes – I had insisted – and my grubby fingers clutched a worn hardcover to my chest. But I wasn't reading at the moment.

I was listening. I knew I shouldn't waste my precious reading time; after all, my mom had assured my sister and me that once we were older, there would be no more books in the synagogue. We would have to sit and listen for the entire eight-hour service.

I couldn't help but listen, though. This was my favorite part of the service, minus the standing. The chazzanit stood by the podium, floating through a very, very long paragraph. Every few lines, the whole congregation would join in. I tilted my head back and listened, feeling the magic of hundreds of voices mingling as one.

Li Rosh Hashanah teekahta-aymoon … uvi Yom tzom Kippur yichata-aymoon.

"On Rosh Hashanah it is written, on Yom Kippur it is sealed."

Rising above all of the other voices was the chazzanit, her song lingering at the top in a high, pure note.

I didn't know many prayers yet, but I had always been told I had a good memory. And they had repeated it about 10 times. So the next time the line came, I inserted my tiny, warbling voice into the solemn chant.

Li Rosh Hashanah teekahta-aymoon … uvi Yom tzom Kippur yichata-aymoon.

It was the chazzanit's turn again. As she continued, I turned to my mom slowly, eyes shining with awe. "It's beautiful," I murmured.

She reached out a hand and encompassed the synagogue with a sweep of her arm. The glistening stained glass windows transported from the old synagogue, the wide, flat bima encircled by thinly carpeted steps, the rough stone wall mimicking the Kotel, and the ark; the ark with its tall, graceful wood doors concealing the priceless treasures, the Nair Tamid hanging above, burning eternally. All of this she showed me, and so much more. "Isn't it all?" she whispered.

Isn't it all?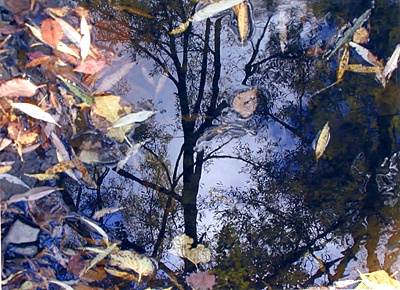 © Alex B., Rome, NY