San Francisco Carnival
MAG
February 28, 2012
Steel drums echo in my ears. The drummers – standing proudly atop the forty-foot trailer covered in antique circus décor – don't even look up as they concentrate on the rhythms. They focus on each note, the corners of their lips turned slightly downward and their brows furrowed with lines of determination. Their eyes project elation. The excitement is palpable.

Today is carnival.

Carnival celebrates life and unity. Majorities and minorities join hands and become equals. Colors of skin and clashing personalities blend into one single rainbow beam. San Francisco's carnival, though marginally smaller than the one in Trinidad, brings our school together. Popular cliques socialize with those labeled strange; sporty kids admit they like academics; and mini skirts are shed for elaborate costumes.

Our section of San Francisco's ­carnival parade is a blend of music, dancing, and art. Our school's steel drum band plays atop the semi-trailer. Our samba group trails behind, playing tambourines, agogos (bells) and surdos (large thunderous drums). ­Ribbon dancers wield silky strips of fabric, wearing tee shirts and skirts over black leggings. A long strip of black fabric comes around from behind their necks and crosses at their collarbones, tying in the back.

We create costumes that transform us into animals, plants, and theme-­related creations. From the first day of carnival class when the theme is announced to the final rehearsal (complete with raspberry-filled donuts and slightly greasy pizza), there is no limit to creativity. There's no wrong way to do anything. Everything is art.

It's eleven a.m. There are more than 50 of us: students, teachers, and parents. We are linked together by colors. Everyone is clad in black, fire red, and gold. This year's theme is ­antique circus. We have half a block to ourselves. Face paint has been applied, costumes adorned, and truck speakers turned up to ear-blasting volume so our music can be heard over the 300,000. Gelid winds prick us as we await the start of the parade. The anticipation of moving forward until we hit the spot where empty pavement meets cheering crowds is all that anyone thinks about.

Our largest creation is a gigantic ringmaster. He's eight feet tall with an intriguing face. One of his eyes is bright blue, the other silver. He wears a black top hat. His limbs are silver paper tubes that bend and sway. We have also created elephants, lions, puppet caravans, dolls with skirts that stick straight out … and then we have Lindsey and Cilantro.

Lindsey and Cilantro are the lion-taming puppets. They both have brown dreadlocks and Sharpie-drawn button eyes. Cilantro wears a gray shirt, black bowtie, black vest, gold baseball cap, and black-and-gray striped pants. He carries a whip made of wire and black leather. Lindsey carries a ring of fire – a red and orange boa wrapped around a wire wreath – and wears a gray dress and black headband.

I carry Cilantro. He is six feet tall including the bamboo rod he's mounted on, but weighs almost nothing. As I grip the bamboo with my cold hands and wait for the truck to move, I look up at the sky. The usual San Francisco fog lies low in an ­attempt to make the day gloomy.

"You won't win today," I whisper to the fog. "There's nothing you can do to make today sad."

I look at the people around me. A group of girls dressed as dolls hit the surdos producing slightly atrocious off-rhythm beats. An eighth-grade boy circles clusters of people on a ­unicycle. A couple of ­seventh-grade girls carrying long red ribbons swat each other playfully. Finally, I look at the steel drum band one more time.

All these people are the foundation of my second home: school. Today, it ­doesn't matter if you're rich or scored the winning goal in last week's soccer game. Nothing matters today except for us, together as one ­community.

The truck slowly begins to inch forward. People let out yelps of glee. Everyone ­gathers up the last scraps of their costumes and begins to follow the truck, dancing to the music we have heard in preparation for this day. The high ring of the agogos mixed with the loud cracks of the wooden sticks hitting the tambourines creates an exciting, yet tailored sound.

I follow the procession, proudly carrying Cilantro, trying to see through the paper glasses that were given to me at the last minute. A cutout of a top hat is glued to the top.

The last of the ribbon dancers and an elephant pass me. I adjust my glasses so my eyes can see through the almond-shaped slits. A single beam of sun hits the asphalt in front of me, breaking through the fog.

Carnival has begun.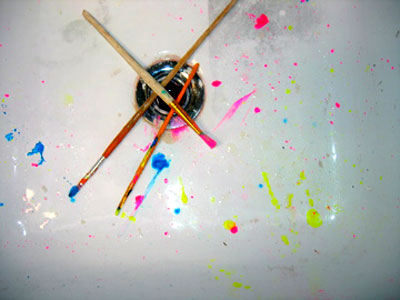 © Chelsea H., Carlsbad, CA