"Londoners Be Cray"
July 2, 2014
Yesterday afternoon, Albert, my mother, and I set off for the airport. Today, at noon we arrived in Heathrow England. After crawling through numerous lines, we made it out of the airport and set off to the motel. We had 18 hours in England, and we were going to use it all despite only getting 4 hours of sleep on the plane. We checked in to a cozy little building, and I was thinking you know, maybe it won't be so bad here. A nice lady in a blue apron then proceeded to lead us out of the building we were standing in, across the road to another much dingier building. Ducking under an unusually low, hobbit sized doorway, we found ourselves in a shabby, little corridor. The lady led us up a narrow, rickety staircase to another hall with numbered doors along the walls. She led us to our room and announced, "The bathroom is down the hall." And then she left. You read correctly; this was a place with a communal, shared bathroom for the entire floor. I would like you to know that I heroically braved the shower and beside for the freezing water and hairy drain, I survived. In addition, all of the sinks had a mind of their own and only ran 50% of the time. However, it feels important to mention how grateful we were to have had a place to rest.

Now, we had a whole afternoon, and we were determined to spend it enjoying London. So, after an hour and a half on the metro tube (a very complex system I cannot hope to understand), we arrived in downtown London. We were all nodding off with exhaustion at this point and it took enormous effort to get off the train. We spent the next few hours in the Tower of London, which is not one tower, but a series of towers and buildings built hundreds of years ago that creates a formidable fortress. It was an amazing experience walking the halls of many famous rulers, seeing where Anne Boleyn was held before her execution….Amazing.

The following are tips that I wish I had before arriving in London:
1.
Limit liquid consumption. Public bathrooms are rare, and things get really uncomfortable, really fast.
2.
No garbage. London does not have garbage cans at every corner like in downtown Seattle. When there is a can it is labeled LITTER which is interesting because I am used to litter being the trash left out of the can…..In the place of garbage cans, there are recycling bins begging that you keep your trash, but hand over your newspapers and magazines.
3.
Don't fear the bus drivers. You might fear them because: They are on the wrong side of the vehicle (apparently this is normal, all driving is backwards here, and it is nothing to be concerned about). They are locked in blue cages (I took the liberty to ensure they had breathing holes, so it appears relatively safe). They all have dour, resentful expressions (but that is OK, because they are in cages).
4.
You are not as cool as the natives. Crosswalks seem to be optional. Many Londoners just cross where they please, and traffic seems to spare them. I thought that by following a Londoner closely, I could also cheat the crossing system but no such luck. I almost got ran over and then I was severely honked at. It is just a skill I do not have to cheat the system.
The last leg of our journey was dinner. Our chosen restaurant was a 12 minute walk according to Google maps. But was it actually 12 minutes? Probably, but not for us. We got royally lost, and 30 minutes later we arrived at the restaurant. We were not aware that fancy was the norm at this diner, but we were famished so we tried not to notice as we entered the beautiful place in our sneakers and sweaty street clothes. This was an establishment where you are expected to have a reservation (thankfully they let us in without a reservation), it was the kind of place where a man in a suit is your waiter and he spreads your napkin on your lap for you. So we sat at a table next to this group of young men in ties and had a wonderful evening, mumbling over the delicious food about how under dressed we felt. What a day! And we have not even arrived at our final destination yet.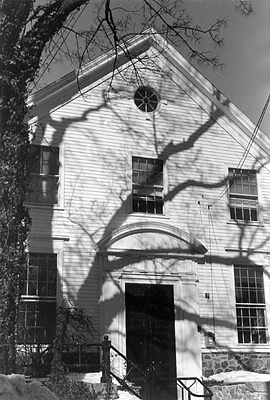 © Lena K., Marblehead, MA