Everything I'd Been Waiting For
April 10, 2009
The docks were bursting with life, awash in serenity, and everything I'd been waiting for. The shining lake water gently lapping against the metal supports made a cheerful thwap thwap sound, and the seagulls soaring overhead filled my ears with the tales of their joyful discoveries.

Looking at the sailboats bobbing peacefully before me, I was filled with a sense of rightness. I knew down to the bottom of my soles (and probably a good ten feet down below that) that this was where I was meant to be. All the minor stresses and anxieties that had built up inside me over the course of the year were gone. It was as if the water all around me had breached its boundary and washed any feelings of fear or sadness away.

The ever-present Superior breeze rose off the surface of the lake and plucked at a piece of my hair, inviting it to dance. Moving in perfect harmony, the wind twirled it around in a perfect pirouette, then sent it leaping up higher. And while this proceeded to throw a shiver of cold racing down my spine, it was also one of delight.

"Isn't this great!?" I shouted to my brother.

Kyle was wandering alongside the railing, one Canon Rebel XTI camera slung around his neck. He kept glancing up at the many different flags that were flapping in the wind. I was pretty sure he was trying to figure out the best way to capture the spectrum of countries on each flagpole in a single shot.

When I spoke, however, he looked over. "Yeah," he replied. Smiling, I just shook my head. All of this glory could never be contained in a single word.

"I think we better go though, Hannah." Kyle was crouching down now, one eye squinting through the camera, which was directed up at the dancing banners. "Mom and Dad are probably unloading lunch from the car, and our cruise is supposed to leave in about twenty minutes."

This was probably true. We'd arrived only a half hour or so before the Island Princess was scheduled to sweep us all aboard for a two hour tour of the islands. While this meant that we all more than ready to be here, it did not leave us much time to eat lunch, go to the bathroom, and get ready. I was just thankful to finally see something besides miles and miles of trees (that's Wisconsin for you), and delighted with the breath-taking scene before me. My parents, while still pleased to have reached our destination, I believed were experiencing a wee bit of stress. So…

I nodded. "Okay then." After all, I still had about two days to marvel at this newfound paradise. And even though I'd never been here before, it was beginning to feel more and more like home.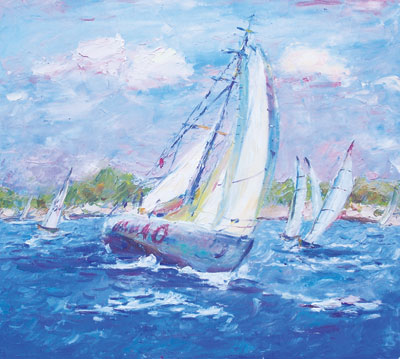 © Xiao H., Naperville, IL