Don't Judge Me Because Of My Size
December 2, 2012
Don't judge me because of my size.

No, I'm not overweight. I'm not curvy. I don't have the body of Adele or Tyra Banks. I'm not saying bigger girls don't get judged, but the skinny girls do too.

I'm 5 foot 5, 120 pounds. I know this is the body that girls dream of, the body that some girls would kill for. But I hate it. I get discriminated against just the same as any 300 pound bombshell. When you get asked if you want dessert, it's assumed I just want a salad, with light dressing on the side. No! I want the dessert, chocolate cake with ice cream and extra caramel sauce. I don't want some skimpy carrot sticks for dinner, I'll take the Double Bacon Cheeseburger.

I guess people think my life is perfect, just because I'm a size 2. But it's far from it. People think I'm anorexic. They come up to me and ask what diet I'm on, what exercise routine I use. I'm not anorexic, or bulimic. I don't exercise. I don't even eat healthily, really. I had three cookies for breakfast this morning for crying out loud. If that doesn't tell you what kind of person I am, nothing will.

But still. I get judged for my size. I see people glance at me when I wear a swimsuit and you can see my ribs. If I feel sick or pick at my lunch one day, I can hear the whispers. "I'm not anorexic!" I want to shout at the top of my lungs, teach them their lesson for staring.

Whereas a bigger girl might hate shopping because she sees her size in those upper numbers, I'm always afraid they won't have my size. Did you know most stores don't offer double zero any more, and hardly ever have zeroes in stock? Don't you think it's just as degrading to have a size 2 fall off your nonexistent hips as it is to have trouble buttoning a size 16? When the only small in the store is on the mannequin and even that is too big, don't you think that makes me self conscious? There are specialty stores offered for plus sizes, but what about the skinny girls? Are we supposed to go shop in the little kids section when junior's clothes are too big?

I know what you're thinking. You're calling me a hypocrite. You're saying that the world is designed for skinny little white girls like me. But you're wrong. I'm not saying that I'd rather be plus sized, but I at least want some curves for crying out loud. Everything I ever see shows a picture of a girl my size and all the comments say something about how she's a terrible example for kids everywhere, that she's not beautiful. And then when a see a picture of someone no smaller than me, a lazy girl from the middle of nowhere, and she's called ugly because she doesn't have the curves of Marilyn Monroe and people like that, how am I supposed to feel? Is that not supposed to make me feel ugly too? If curves are beautiful, does that automatically make me hideous? I don't have curves. I don't have hips or big boobs, but that's not my fault. I've trying to gain weight, I really have. Because that is what media today wants. They don't want size zeroes. They want size fours. They want size sixes and eights. But I can never be a six. I can't even fit into fours. And that's not my fault.

So if you want to call me ugly just because of my size, then maybe you're the hypocrite. People just like you go out there claiming that the world is against them just because they're big. Well guess what? Calling the skinny girls ugly and anorexic sure won't help your cause.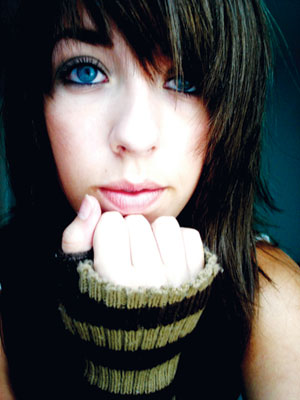 © Brit H., Peabody, MA