Racism Is Still Alive
March 3, 2017
Racism is everywhere in life. It mostly has something to do with people who are different from you. You can see and hear racism without even looking for it, like at school. Many people have friends who are different races than you and now school is very diverse. But honestly, if you look really hard, you can see groups of people of the same race hanging out with each other away from other races. Now I am not saying its the same situation for everyone, but there are groups that are only composed of the same ethnicity as them.
As I have grown up I have noticed that everyone is racist. I don't believe they mean to be racist or is racist by heart but I do believe the reason for this is because of our economy and also because of fear. In out time now we have white male police officers killing innocent African American males. Sound familiar? I bet it does because in the 50s and 60s white police officers (male or female) could treat or kill an African American (male or female) anytime or anyway they wanted to.

I believe racism also has to do with stereotypes. One common stereotype that I hear all the time is "all mexicans speak spanish" if you have heard this phrase or others that are kind of similar to it then you have experienced racism.
My experiences may not be so intense as other people's experiences and may be totally different then most people because of my situation. I grew up in foster care and has been in many homes in my life. Most of the homes I have been to were people who way different races then me and who skin color wasn't even nearly close to the same color as mine. So you can imagine that i have gotten a lot of stares for being the odd one out. Even now I am living with an African American family as my permanent home and they are the most amazing family I could ask for but the way people look at us for being a mixed racial family is just hateful and it makes us very uncomfortable.
I go to school with my family and when I tell people that they are family they give me this look like as if I am lying. One time I told someone that I have a cousin that goes to my school and I pointed them out and the first thing they say is " how does that work? You're lying cause she is black and you're not." The fact that I had to explain to them that I was in foster care and they got guardianship over me made me really irritated because in this time period mixed racial families are more common and it's shouldn't be a shock that a mixed girl ( mexican, indian, japanese, hawaiian) has a family who is black.

Racism is alive still today. It's at school, at jobs, at the store, or even in restaurants. It's everywhere and people fall into it without knowing. It's becoming a huge problem again and many people gave their lives to fight to get rid of racism and it just comes right back up years later. Does that mean they gave up their lives for no reason? Is our economy going to never change for the better? Or is the next generation just going to grow up in a racist society? Racism is still alive everywhere but it's our choice if we want to keep it going or get rid of it for good. It's our choice to let the people who died fighting to get racism to stop to let their sacrifice matter and that they just didn't die for nothing.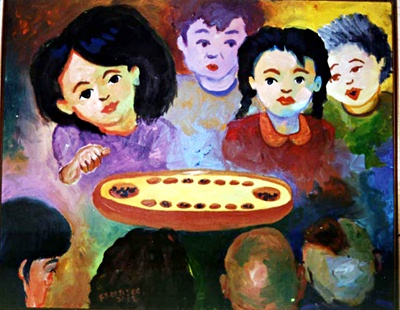 © Fransisca A., Surabaya, Indonesia