Pill Popper
October 6, 2013
She sails on a sea of sorrow.
Blues surround her,
Slowly and silently sneaking into her raft;
It vanishes beneath the surface.
Struggling, she spies a life jacket.
Sputtering, pills become her savior.
The Blues snake around her body.
She shivers but her head stays above it all.
Sanity swirls with survival,
A sticky concoction.
Shallow water and soft sand
spied in the distance.
She swims,
but the life jacket begins to suffocate her.
She cuts it off and swiftly sinks,
suction drawing her under.
Soft eyes see blue skies;
Fading Fast.
A sickly, sweet salvation.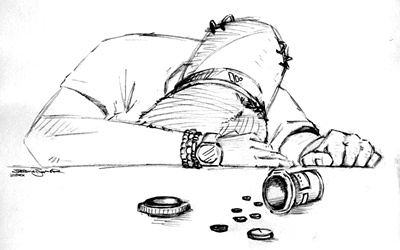 © Jeremy B., Austin, TX