What It Means to be a Role Model
October 25, 2018
Jennifer Lawrence has been on the rise ever since she landed her role in the four-part movie series, The Hunger Games. Lawrence played the part of Katniss Everdeen, the selfless, older sister who steps up to take her little sister Primrose's place in the murderous game. Since then, she has won one Academy Award, two Golden Globes, and two SAG awards (Meghan Smith). Ever since Lawrence's debut on the movie screen, she has been a role model for girls, and women everywhere. As Lawrence embraces the role on screen of a young women who is not defined by her relationship with men, and is strong enough to hold her own, she naturally fits into the same role off the screen as well. Lawrence became a natural role model and big advocate for dedication, equal pay in the workplace, and good body image.
Lawrence has been a dedicated, inspired, and hard-working actress ever since before she landed her part in The Hunger Games. She explains in an interview with 60 Minutes that "I am hard on myself…Too many people sacrificed so that I could be here. My parents, you know, changed their entire lives to support me. And I worked too hard to get here to be stupid about it." (Jovi Figueroa). From working to get the role, to working to keep the role and portraying it the best she could, she has been putting all of her time into her acting so she can please her audience. Lawrence has put in hours and hours of hustling and auditions to get where she is today, with and estimated net worth of about $120 million.
Lawrence has also worked extremely hard to know her worth in and out of the workplace. She explains that "I feel I know my worth, and I feel like I work to keep it that way" (Jovi Figueroa). In 2015, at the beginning of her career, Jennifer Lawrence wrote a piece on Lenny Letter about how she was confused on why she was not making an equal pay, that of her male co-stars. She expressed that she was not being spoiled, or complaining about the size of her paycheck, but she was, and continues to fight for equal gender pay. She fights each day for gender equality in the workplace, and that's exactly what she wants other women to become: a woman who will say no when she feels she is undervalued, and negotiate for the price they deserve (Jovi Figueroa).
Additionally, Lawrence became a huge advocate of positive body image in young girls. In an interview with BBC Newsnight, she said that she felt that, "Girls see enough of this body, that we can't imitate, or are able to obtain these unrealistic expectations, and this is going to be their hero [Katniss Everdeen] … and we have control over that, so it's kind of an amazing opportunity" (Jennifer Lawrence). In other words, she wants to wipe the image of unrealistic body expectations from all young girls' brains and replace it with an independent, strong woman, like her character in The Hunger Games Katniss Everdeen. She also revealed in the same interview that there was talk about her having to lose weight to portray her character in The Hunger Games, but she persuaded her producers to let go of the stereotypical body image, and create a new one.
Jennifer Lawrence is the epidemy of a good role model. She is passionate, independent, hard-working, and works towards improvements in her industry like equal gender pay and positive body image. Lawrence once said that, "Even as far back as when I started acting at 14, I know I've never considered failure" (Meghan Smith). She believed in herself, and put in the work to accomplish her goals of becoming a successful actress, which got her to where she is today.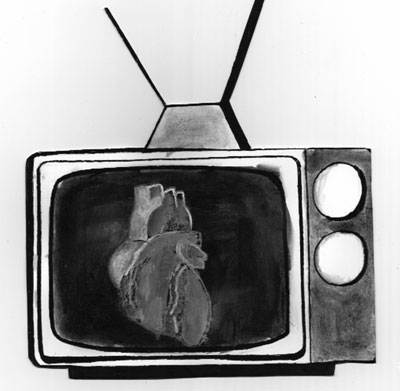 © Brooke S., Indianapolis, IN