Yes, I Really Do Hate 'The Hunger Games'
July 1, 2012
The Hunger Games crashed through the New York Times Bestseller list like a hungry lion in a meat shop. The numbers were astounding; approval ratings crashed through the sky. But behind all of the popular applause, there are a fair amount of faults that I can find in Collins' trendy novel 'The Hunger Games'.

But why, exactly, is this novel so well-liked?

To begin with, it's an easy read. Embarrassingly easy. Most kids I know that read this book consisted of 13-17 year olds. They bragged that they read 'The Hunger Games' in one day. But I see no great accomplishment in this feat, because the book was written for, by my standards, 10-12 year olds, and so people probably should have finished it in a couple of hours. No surprise there; there's nothing to brag about when you finish a kids' book. But do you hear people saying how great 'The Three Musketeers' or 'The Count of Monte Cristo' is? Nope. That's because the books are really huge, and nobody bothers to read them. Popularity starts with an easy read.

Secondly, the gladiatorial draw is intoxicating. It takes the reader on emotional ups and downs and might make a more tender person cry (like when Rue died). Admit it; the book was grotesquely, horrifically amusing because the main character constantly in a life-or-death situation that was (supposed to be) intense. Blood, forced murder, innocent children dying, the works.

Let's move on to the actual writing job. There are many things I find distasteful about 'The Hunger Games.' Primarily, I find Collins' lack of description remarkable. The book reads more like an emotionless screenplay rather than a good novel. The only reason people feel sad or happy or triumphant is not because Suzanne actually describes the characters' feelings; it's because the gladiatorial plot has a built-in intense system that makes the reader ready to cry or laugh or gasp with horror. Take away the horrific plotline, and you would feel as much emotion as a brick wall. But Collins' lack of description extends further, to places, people, setup, and scenery. She describes place settings like a children's book: short sentences without analogies, parallels, good use of words, etc. Just 'the wall was blue.', not 'the long wall was sickly forget-me-not blue that made me want to puke.'. A good writer needs to know how to describe, not just tell.

Somewhat related to the writing, I find the plot unrealistic. Yes, a hero or heroine generally faces incredible odds, but a good author should know where to draw the line between 'heroism/luck/good fortune' and 'completely unrealistic'. For example, Katniss is a malnourished, starving, and thus weak girl (and by nature, girls are physically weaker than guys anyway). Do you really think a person like that would stand a chance against older, buffer guys that had been training their entire lives for the Hunger Games? Do you honestly think she could have survived? The 'careers' were prepared for the Hunger Games, she was not. For instance, when Katniss is in a tree and the girl tries to shoot an arrow at her: the girl was a career. Don't you think they would have taught her how to use every possible weapon if they wanted her to win? And yet she was poorly trained: hmm, Katniss has some pretty extreme luck there. When the boy tries to climb the tree, he gives up after one try. They wanted to murder her. Do you think they would give up after one try? At least have thrown knives at her, or chucked rocks at her, or something. Even if one girl couldn't shoot an arrow, you would think that out of that many careers, at least one would be able to handle a bow!

Minor note here: when Katniss's urine is brown, she should be dead or passed out. Scientific fact: you cannot be conscious and be that dehydrated. It's impossible for your body. Collins might have wanted to do a little medical research if she was going to have her characters heroically wounded/incapacitated in some way.

Lastly, I find it slightly sexist. A weak girl bypasses logic, rationality, a few basic laws of physics, and has some completely unrealistic doses of huge luck that make her survive until the end. And what does Peeta do? He gets wounded and hides in the mud like a wimpy dude. Of course, Katniss, being the strong brave invincible girl she is, had to go save the poor guy. You'd think she had Achilles' curse or something; the ways she survives are ridiculous. If an author has a heroine, especially a girl, they've got to learn not take it so far as to seem fantastically outlandish.

To sum, I loathe 'The Hunger Games' because of the dumb reasons people like it, it's unrealistic, and sexist. Glad you bothered reading this much of my opinion.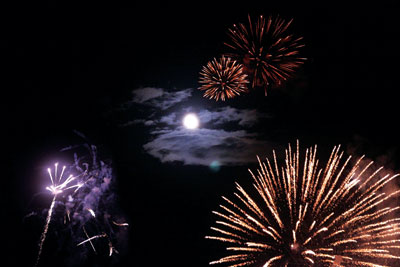 © Meena K., Groton, MA