I Believe in Birthdays
November 24, 2013
I believe in birthdays. I like the paper crown on my grandpa's head, the embarrassed look on my grandma's face as we sing for her, and my brother's frosting-covered nose as he noms on cake. I like the mysterious silence right before the birthday candles are blown out, the sacred moment of wish-making.


You can say that you don't need presents, that birthdays are stupid because they should really be about a mother's strenuous labor. Your mother may undoubtedly be a nice woman, but today we are celebrating you, for you were courageous: courageous enough to leave the comfort of your mother's belly, and enter this crazy, chaotic world. Whether you are two--too young to understand what a birthday is--or thirty, thinking birthdays are for two year olds, I know you would still enjoy a good birthday song. Even Squidward, the grouchy cephalopod from Spongebob, would struggle to maintain a straight face with a crowd of people staring right at him, singing Happy Birthday in the most off-key tone. Go ahead--smile that embarrassed smile, because it's been a long time since your last.

Last week, Dad turned forty-eight, and he didn't even bother leaving work early to celebrate. "It's just a birthday. I almost forgot anyway," he said.


That afternoon, I told Coach that I was sick, so I could leave early and accompany mom to go buy the perfect birthday cake for Dad. At the local Chinese bakery, we decided on the mango mousse cake sprinkled with chocolate shavings. We had it calligraphed with strawberry syrup saying "Happy Birthday, Dad!" because we knew he must have been tired of being called "Dr. Xiao" all day long.


As I occupied myself with schoolwork in my bedroom, I anticipated the orange light through the curtains that signaled Dad's arrival.
Finally, he was home.



At the dinner table, he nonchalantly opened up the daily paper. He said that we should save the cake for tomorrow, because sugar at this hour was unhealthy. We didn't. He said that we shouldn't sing, because it would bother the sleeping neighbors. We sang anyway. He said that he didn't need candles, because it was too much work. We lit ten around the cake. We did all this, despite any resisting forces, because birthdays are important. We did all this because when the lights dimmed, the candle-lit cake made my dad's tired face glow with delight. Right then, Dad couldn't help but giggle, and that made us all smile.


No matter where we are in life, or how guilty, ashamed, exhausted, or lazy we feel, a good birthday song can give ourselves energy to embrace ourselves again. We may not be so lucky to have loved ones around on our special day, but we should still go and buy yourself a fruity cake and make that wish of ours. Don't disregard your birthday.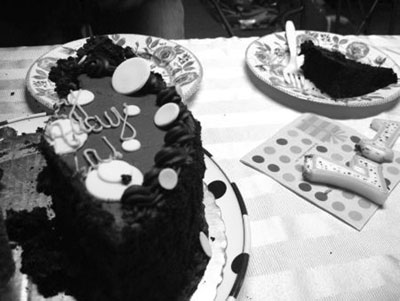 © Carolyn K., White Plains, NY