The Deafening Vitual Silence
July 23, 2015
The silence in her room was deafening. Even the dust particles made more noise than us. Surprisingly,I didn't anticipate such an evening,perhaps it was because I was meeting my childhood friends after three years.
All I received was an invitation to share the armchair with Rita. No one felt the curiosity to ask about my life in India, or share their excitement on my return to the states. Why? The answer was hidden in the device that has consumed teenagers all across America,to the point that it contains part of our souls. The cell phone.
I still remember the movement of all of their fingers as they were texting. No one felt the need to have a conversation as everyone was already wrapped up in their own little virtual ones. I did not have a phone at the time and had the walls for company.
But that wasn't the last I saw of the smartphone after I returned to the states. In fact, I see one everyday in action until I go to bed. My Samsung Galaxy S5, in other words, my baby.
I wonder if teenagers remember the elementary school days, where unfamiliarness will be broken by the sound of a burp, followed by uncontrollable laughter. People will actively start conversations about funny incidents related to burping and before you know it, addresses will be exchanged.
Consider the same scenario with teenagers. The only friend we would have by the end of the day is our new follower on instagram.
Every class outside of school I attend is the same repetitive silence. Even if someone tries to start a conversation normally, it will fail. "Hi, my name is…" doesn't work anymore in society because it will dismissed as weirdness. That sentence has been replaced with "Follow me on..".
Even I've been caught up with this revolutionary gadget craze, but I was left with no choice due to the way teenage society molded themselves. Lets break the pixels and use our beautiful voices more often. Otherwise, the art of smiling and just saying hello will merely be a quote in museums.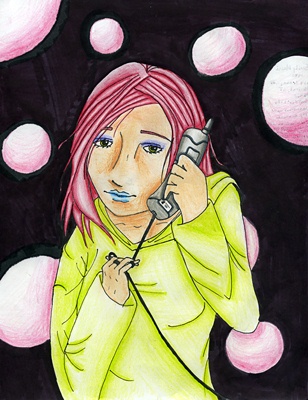 © Emily M., Milford, CT