there are lucky people.
November 26, 2009
Some people are born lucky, some aren't. Remember those days when the kid next to you in your math class always used to get A's on his test, even when he didn't study? Don't you ever ask yourself why not me, why him/her? For some people, life just comes easy to them. For others, they have to work hard for it, and sometimes they still don't get the benefits the "lucky" people get. Luck is good fortune, advantage and success. Lucky people tend to be the one's whom everybody admires.

Some people are born in wealth, while others are dragged into poverty by birth. Take for example, Suri Cruise. She is the daughter of Tom Cruise and Katie Holmes. She was born into fame and money, while some other little girl in India was born into rape and abuse. Who looks like the lucky one here? The difference between lucky and unlucky is that when your lucky, things come to you without suffering and work. When your unlucky, suffering is involved and negativity. I think that I'm lucky. I have a great family that will support me no matter what, and I'm healthy. For example, when I had to go to the hospital to visit my baby niece, sick, handy-caped people surrounded me. That's when I first understood what luck meant.

Would a lucky person be classified as a super human? There is always going to be someone better than you, and it's not because they're smarter than you, it's just that they were born luckier. Doesn't it make you wonder why some people are born luckier than others. I think it has to do something with the past life, those who were bad in the past life get a bad life. I think I had been good in my past life because it's as if opportunities are just flying at me. One of my mom's ex boyfriends was a dentist. I want to be a dentist, and he gave me the opportunity to intern at his office and get hours. Another of my mom's ex boyfriends was a lawyer; I want to be a lawyer also. He gave me an opportunity to be his secretary and get paid. I am being prepared for the working world and I'm still fifteen!

You can be lucky, even if you weren't born lucky. One way you can do that is by literally telling yourself your lucky. Luck feeds of positive energy, and as soon as the negative energy comes in, that's when the luck goes on to another person. Think of luck as a person, if you tell that person that you can't rely on them, and they're stupid and useless, then that person will get upset and leave. If you tell that person that they're great and your thankful for everything that person has done, that person will want to do greater things for you. For example, when I took the first science test of the year, I told myself that I was going to get an A and I had positive energy throughout the test. I ended up getting an A, and it's not because I studied, but because I believed in my luck. Don't take luck for granted because not everyone is lucky, and if everyone were lucky, then the whole world would be normal because luck is an advantage on something that someone else doesn't have, and if everyone had the same advantage, it wouldn't be an advantage.

My philosophy is that there are lucky people in this world. Luck helps you with problems. For example, I didn't study for a science test and as I was about to take it, the office calls my name to tell me that my mom was going to pick me up. Now that's luck, I had the advantage of studying an extra day while the whole class had to take it. To prove to you that some people have luck, when the Heat won the championships, that was pure luck. How else could they have won? Next time you see a lucky person, stick around them. Maybe they're luck will rub off to you.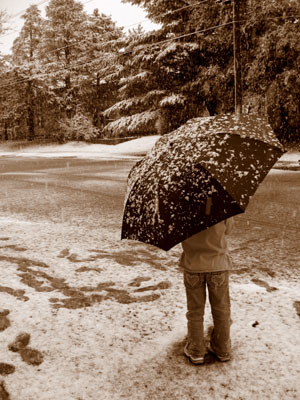 © Hui Y., Potsdam, NY