The Summer Home
May 8, 2009
What were we expecting
as we made our road-trip through the wild countryside
to the country home that had welcomed us
in the summers of our childhood?
What did we anticipate we'd feel as we drove further,
as the radio turned to rain sticks
one station after another?

Sure enough, the grass grew thicker, and
the brush more regular, and
the trees solid.
And sure enough, the air breathed cleaner,
and the deer started grazing,
and the owls hooting
as they had done in the soft evenings of our summerhood…

So, when we turned off the paved road and onto the gravel,
what did we imagine would spark?
The forest rose all around us,
the sun came through the leaves in that summer gold,
that gold that doesn't quite reach the suburbs.
And as we drove further, we came to a small village
and then further to a white country home.

It was as we had left it.
Green front yard, pebbled driveway, rich purple garden.
House, dark hardwood floor.
Screen porch. Moss and brick patio.
Rich yellow garden, green backyard melting into forest
melting into lake.
And all through this, the golden light…

What did we think would happen as we left the car?
Look, over there is where the fireflies always flew,
and we'd catch them in glass jars
with some leaves and a stick for comfort.
We ran barefoot, no fear for honeybees,
soft dew bathing our toes,
green grass staining them again...

And over there, in the porch? At night
under warm lamp-light, we would read picture books
and play worn board games with missing pieces
that we replaced with pretzels and potato chips.
It was safe in there, from mosquitoes
and everything else.
Remember that feeling?

And the gold would tint the scenery even when the sun had
tucked itself under the horizon.
Sometimes our parents would simply sit and watch the tint
fade to green and then to blue.
And in that blue
we would sleep.

I expect it's still the same.
When we stood there, some twenty years later,
we saw the light and the peace of the summer sky,
just as gentle as before.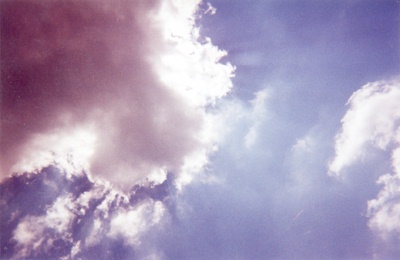 © Kena A., Huntsville, AL