Packing
May 26, 2009
I stare at this empty suitcase
And think of all the things
That I cannot simply pack away,
That I cannot just collect together
And bring with me unceremoniously.
No, I stare at this empty suitcase,
And I see everything.

I see those days I spent,
Running, screaming, giggling
With friends and sisters,
Days now long gone
But filling my suitcase
With memories.

I see those nights I spent
Filled with fear and dread
Waiting for unseen monsters
To come and drag me away
And I can see it now filling my suitcase,
And I am afraid all over again.

Yet, I see that lifelong eagerness
I've always had to one day
Do something great
With what little I have
And I willingly let it fill up
Those few empty spaces.

I look around my room
And I see all those things
I just can't leave behind
Because they hold more memories
Than I could ever hope to remember,
So I gather them up,
My dolls, my pictures,
My music, my flute,
Everything I've ever written,
And I put it all into
Another, bigger suitcase
And I carry them both
Out the door.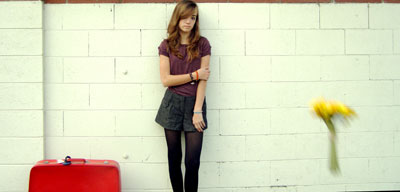 © Austin K., Studio City, CA