I Remember
November 17, 2009
I Remember
I remember those thoughts of not belonging
I remember how I wondered through the possibilities of IF
I remember how terrible I was to express and speak
I remember when I settled into the never
I remember the day I woke to a change of scenery
A change that displayed rose petals
The petals represented love, belonging, warmth
Just what I needed!
But what made this petal special? Why do I need it?

I remember how shy, shock and unaware I was from my petal Giver
Was it the shock that something was made specifically for me, A Nobody
Was it the touch of the Giver?
Wait, What Giver? Giver of what?
Of love, happiness, of belonging
But the rose gave me that didn't it?
So, is this Giver here to make me realize that I am still dreaming?
Is it here to help me wake up?
No, it is here to guide me, to follow me, to become the rose
Yes that is exactly it but than I realize
I am not dreaming
I am seeing what I have always wished for
I am seeing what seems to be the future
For my wishes are becoming my future.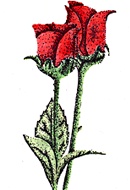 © Sarah M., Phoenix, AZ