Paintings
August 31, 2011
This tale is true, and mine. Oh how the years went by
as quick sand through my hands. These Paintings of my
past put on a pedestal so high for all to see. Half my
life was spent waiting for everyone to just set things on
my lap. The other half, struggling to get out of the deep
dark hole. Looking into the mirror, is nothing but a
broken man who lost so much. I stare at the Paintings of
golden paths, speechless. Those were the days, is all that
comes to mind. With every blink, I am taken back to
those days. For my first few years I never walked on a
straight steady path. Always at risk of falling off the fine
thread I walked on and constantly staring failure in the
face. People passed me and would scuff, he's nothing
but a lost cause. Huh, so they thought. Motionless I sit as
I open my eyes and come to reality. How could I have
wasted so many years moping around. Could things
really have been different if I only had a small glimpse
into my future. No one will truly ever know, not even me.
My eyes close and I am slowly moving up. Working at
anything to get me a little closer. Others shoved their way
to the fast lane, while I just got pushed over time and time
again. Finally I decided I wanted to move up with them. I
took a gamble with life, not knowing what all would come
out of the huge risk I took. I was young, only a quarter
of a century in age, therefore I didn't put much thought in
the choices I was making. Once again I opened my eyes saying,
what if. What if I had only stopped and thought things
through clearly. What if I hadn't taken the risk in the first
place. For years I enjoyed the chance I had taken. Nothing
could have been better at the time. Giving orders left and
right is what I did best. I was finally on top. No one could
touch me. Life was nothing but a gentle breeze. Occasionally
there were the haters, fools that gave me warnings. Always
telling me to be careful and not to go in too far over my head.
But I blew them away, just as I did with my earlier years.
Jerking forward, I bury my face in my hands. I am then
reminded of the biggest "What if" that still haunts me, even
to this present day. What if I had only listened to those
people I once called fools. Now I am nothing but a broken
man who has nothing but Paintings of the past to show.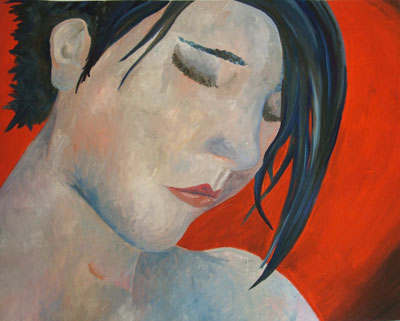 © Lindsay S., Billings, MT