Blood and Bone
December 10, 2011
You think you know just what you see
From a simple glance at me.
But beneath this face of stone,
There's more than blood and bone.
I'm not just an empty soul.
I have a plan, I have a goal.

Why do they all need to be
Looking for the wrong in me?
But these are just the chances:
That from these tiny glances
All the wrongs that they have found
Are ones to which themselves are bound.

So be careful what you care to say.
Somebody needs to watch your back.
Cuz judging's not the righteous way
And what you don't see in me you lack.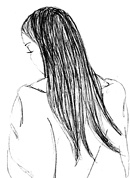 © Miranda B., Neosho, MO