Anti-Ode to Flowers
May 25, 2013
You provide no consolation; your bright, cheery colors mock our sorrow

How dare you?

You sick loiters.

You smell of death.

Flowers, oh flowers, how you contradict yourself.

No flowers for the wallflowers, you promiscuous, whoreson fiends
Stop making them feel like they are nothing because they aren't part something that, in the long run, doesn't matter

Empty vases reflect rejected faces
Your wilted petals litter the aisle to everlasting promises
What if love depended on a young girl's mindless pastime?
"He loves me, he loves me not…."

You are not worthy of her Majesty's royal garden
You are rooted in dirt, in filth, that people rush to scrub off their hands.
Only hideous creatures dare to romance you
And even then, you prove a whore

Yes. A whore.
Spread your petals.
Lay bare your well-worn pistil.
Whet the appetite of the ravaging bee that begs you so,
To penetrate you and disperse your disease.

I too beg.
I beg the question, who would pick you?
Who would pick you to decorate their lonely rooms?
Who would pick you to crown the heads of tender lambs?
Who would pick you to be the determining factor of fate?

Truth be told,
They pick you
To die.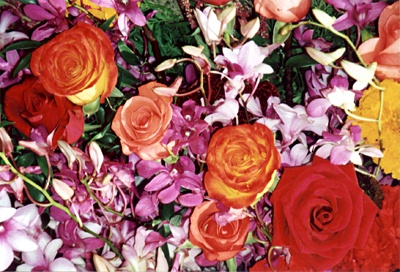 © Stacey L., New City, NY