Faithless Romeo
January 2, 2009
She looks at him, as part of her dies,
through the despair that cloud her eyes.
Tears like this are a thing of yore
Frozen soul, heart nailed to the floor.
A sleeping beauty is the safest of all,
closed to the world, no room to fall.
Safely enclosed within her tower,
nothing comes close, none can devour.
Heartbreak surrounds her, like frost gently furled
upon the loneliest flower of all the world.
Still, there never was a tale of more woe
than that of this girl and her faithless Romeo.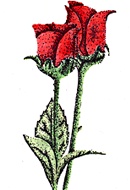 © Sarah M., Phoenix, AZ