You and Your B-Ball Life
August 11, 2015
Basketball is life?
What kinda life you living?
Destruction
Desolation
Damage
As you dripping sweat, you dripping wet with the
Spirit of revenge
Play until you win
You
Forget what's important like your PACEs left behind
When you try to graduate high school you will find
You're in a bind cuz you aint exercised your mind
Stupidity
Ignorance
Come into the classroom, put your shirt in your pants
I'm sorry, but Chemistry aint no song and dance
Leave that basketball behind
It's the fall of mankind
Cuz when your mind is occupied with a ball and a hoop
You won't mean what you say and your words will be like-oops!
When the people who love you walk away
Cuz they feel like that sport comes before them every day
What will she say?
Whoops!
But they're gone and they can't be regained
If you had stopped the swish maybe loneliness wouldn't
Be your bane
Now what you got?
A deflated basketball
From every time it hit a head or a concrete wall
If only ten years ago you had stopped
Your wife and kids would not have walked out
Addicted like a crackhead on crack
Or a pothead on pot
A piece of leather, some Skips, and bills is all you got
Don't got those Jordans like you thought
So basketball's your wife?
Boy, you aint even got a life!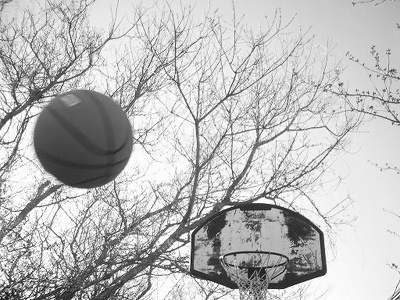 © Ali C., Hyannisport, MA