Mine, All Mine
August 16, 2015
My hat tips to you, yes, my hat's on the floor
You always returned when you walked out the door
Impossible me
Incredible you
It's hard to describe just what we've been through
It's like a haze of craze, walking through a maze, I'm dazed
Still my sister says, I'm just going through a phase
Man, a phase sure lasts for days
We've walked so many miles, we've crossed so many bridges and rivers
The currents were thick, you gave me your coat to block all those shivers
Pumping some gas, giving CoCo a bath
Doing that Math, cutting the grass
It was you and me and now I can't see me without you
My vivid imagination says, "Sorry, no can do"
Because you're my brother
Blood has a price to pay, it has no say, I'd choose you over another
Any day
Just don't go away
I would build a snowman, a sukkah, a treehouse, I mean, I could try
The worst thing you could say is "Okay, bye"
Don't leave me
It's too hard to let you go
My heart would break, I already know
You've always been by my side, 3,000 miles apart
It's hard to get to where you are, skipping, tripping, limping past darts
With you believing in me, Cappy in arm, and a butterfly on my shoulder
Best believe this legit boss could remove any boulder
I'm too grown for my own good, in fact it's kinda bad
I guess I learned life's lessons fast cuz Problem was my dad
And when I walk by, strollin' super fly, don't bat an eye, all the boys sigh
Cuz they can't touch this and it makes them sad
Matter fact they get real mad
While you're staring at my shirt, I advise you read the signs
Princess always got Big Brother coming right behind
Alright, lift a finger, if you dare
I have no fear
Because he's there and he makes me laugh and forget I was scared
You're the calm I look for in the storm and terror
You're my greatest hero, no I didn't make an error
You're no teacher, yet you taught me, you sent me to school, I learned
All the pain I went through was nothing I had earned
I'm a star who shines at the very least bright
Please let's not fight, too tired to be up in tears tonight
Brother, Imma always be your baby sister
Even when I'm old and married to a sinister mister
Can you please try to understand?
I'm not letting go of your hand
This is my home, it's where I belong
If she doesn't want to share, too bad, so long
I don't have an issue
Just don't steal my Angel Soft tissue
If she does, bro gon' have to beat me, cuz, you see, I disrespect real easy
Big bro, you got a big job
No slackin'
Cuz guess what, this Miss aint unpackin'
She can start trackin'
Is there anything I'm lackin?'
Yeah, treat my brother right cuz you're the reason for Wednesday's big fight
We can be friends and you live life feelin' free
On the other hand, I can make your life hell to the third degree
My marital advice: Choose & tread carefully
Oh, you thought I was just hyper?
I morph into Viper
From damsel in distress, to Princess, to canniballistic lioness
Just stay away from my own, out my zone, out my space, out my face
I've yet to work on that shut up grace
I need the keys
Not for you, to lock little he-demon in the tower on his knees
Bolt it, please
My body he'll dissect while my brother's too busy to protect
My brother
He's the reason for these words, did you get the gist?
No worries, I'll use my claws, not my fists
I'm too sweet for punchin'
After all, I'm his little Munchkin
I won't stomp you because I love my brother
I won't ever hurt your mother, take off your heels and run for cover
Oh, how could I forget?
Don't touch my niece!
I will chop you up, piece by piece
Take care of my Grandma, take care of Cuddles
She's potty-trained, she don't make no puddles
Look, I don't mean to be violent
I just need to vent tears well-spent, fix the fender bents and dents
I believe my brother was heaven-sent
And God never gives the same gift twice
Nobody else could suffice, I wouldn't sell you for any price
I need a huggie, I'm about to cry
I won't lie and say something's in my eye
I'm not fine
She's taking something that is mine
And I'm not letting you go
Just thought I'd let you know
I'm gonna fight til I lose my breath, to the ending of the death
Cuz you're mine, all mine
(I got that line from Seth)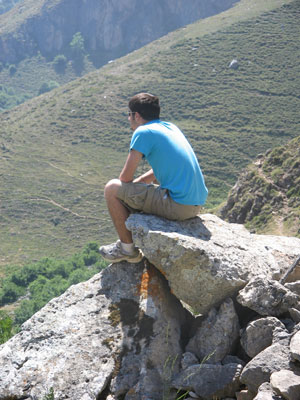 © Bonnie K., San Antonio, TX