Falling Into my Wings
August 31, 2015
An anomaly I was irrefutably;
a ripple on a silent lake.
Yearning for love and acceptance,
succeeding to only be fake.
My open heart as delicate as glass.
my soul as light as a feather.
I become lost in the consuming darkness,
was lifeless, analogous to all the others.
Pain overcame my being,
unable to slip into the murky mask.
My life on the verge of falling,
ending the future, present, and past.
I remain at the top of a cliff, nearly tipping,
breathing cold, deep darkness, no light.
My diversity a curse I retain,
something intangible, impossible to fight.
My eyes flutter shut and I relent,
tears rolling down my cheeks.
I'm faltering, I'm failing, I'm falling,
my hopes shot and drained bleak.
As I slip silently off the cliff,
the wind thrashing at my hair,
I notice something within me;
I do not consist of pure despair.
This something expands as I tumble,
as if the air is tearing away the black.
The nearing ground approaches swiftly,
and I desperately yearn to turn back.
I begin flailing about out of panic.
Heart pounding, piercing my ears.
A wavering breath I inhale,
as my eyes close, accepting my fear.
The wind suddenly dies and hushes,
a silence overcomes the cold air.
The only sound audible is my beating heart.
Am I gone? Do my eyes dare?
I peek out, apprehension deep within,
my breath halts as I am in awe;
a birds' breadth away from my nose,
lays the the ground to which I fall.
However, my body is immobile,
frozen incredibly in midair.
I gaze warily behind me, bewildered,
spotting great white wings that where once absent there.
Powerfully beating rhythmically,
I am astounded that the are mine.
My hopes soar, shining brighter than the sun,
when I become aware that I am fine.
Now I know something that once eluded me,
a truth that can no longer hide;
light, hope, and faith are not absorbed,
they eternally remain on the inside.
My eyes were constantly closed to the beauty,
this magnificence that I always hold,
afraid of its marvel and diversity,
that cannot be bought, taken or sold.
I now realize the dark was purely fear,
fear of what I could potentially be.
For the first time I will embrace it,
because I am finally beautifully imperfect me.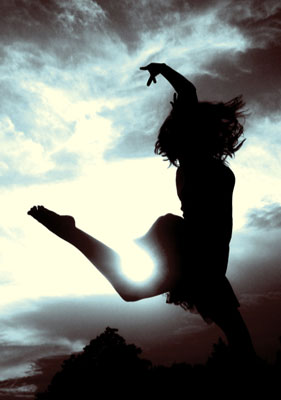 © Martha V., Morton Grove, IL