Blinding Darkness
February 1, 2009
I woke up,
My eyes crashing open.
Seeing nothing
And feeling blind.
The darkness embraces,
Pushing itself against my eyes.
Wrapping me in its cloak,
Suffocating.

My hands fly up quickly
Tangling themselves
into the blankets
In their haste.
Finding the light switch
And basking in
the glory of the light
That fills the shadows,
Sighing in relief.

I close my eyes,
Willing myself not
to open them again.
Because I will not
like what I see.
Thinking induces fear
And I try not to think
Of how I thought I saw
The darkness coming for me
Once more.

My eyelids are like a blindfold
And I lay back down
Trying not to imagine the world
Of shadows and lurking things
That wait for me on the outside.

And I fall back asleep
with the light still on,
Waiting for the morning,
When the darkness will be blinded.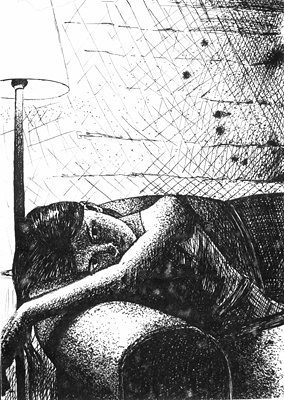 © Elisabeth R., Elmont, NY