a crystalized memory
February 5, 2009
his words, like lemons, pucker
and curdle the veins in her hands,
shoulders and throat,
swelling them into snakes that then proceed
to choke her till she coughs up words that are
written in tendons and purple fountain pens
and they leak out between her teeth
dying the seam of her lips maroon. (like wine)

he smiles with sapphires in his eyes
and the blood pumps to her fingertips
tempting her to trace his eyelashes
and jawbone.
but she refrains and the grin fades
yet his arms tighten and he smells alcohol
on her breath
but kisses away the stains
so she won't have to explain.

with inquisitive remarks she
mends her fraying sanity,
with lacy ribbons in her hair
and smudged red lipstick on her chin.

'baby, maybe i'm not ready' is scrawled
into her corneas and eardrums
deeper and deeper till they
puncture through
and
she
breaks. (a little moremoremore)

she tried so hard to clasp his hand
just right and keep her salt away
from his wounds.
but the healing way she went about it
showered him in peroxide and alcoholic words
burning and stinging until
agonized
he pulled away, away.

not realizing
she loved him.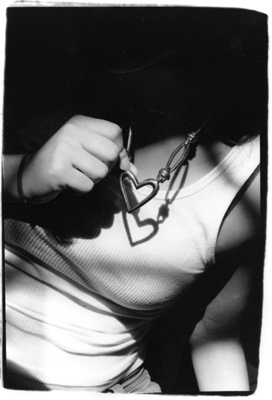 © Julia R., Bethesda, MD