Dreaming
June 1, 2011
Slipping into unconsciousness,
my mind is running free.
Muscles relax,
breathing slacks,
and quiet is the key.

The key to thoughts that are mine alone,
some emotions are there, too.
Locked inside
for me to hide,
and there I let them stew.

But as I lie relaxed in bed,
the emotions come at once.
Stacked in heaps;
too much to sleep;
but waiting for a bunce.

Various and complicated,
these thoughts I lie and ponder.
Hurt and stress
cannot suppress
the spell that I am under.

I don't know how to deal with this:
an emotion that's so new.
Skipped heartbeats
and words so sweet
are coaxing love to brew.

So here I am, confused and lost.
I have no one to speak to.
Not my friends,
who would condemn
the things I feel for you.

You are so far away right now,
some million miles out it seems.
But somehow,
you're learning how
to sneak into my dreams.

As I dream about you and me
my brain finds it hard to cope.
But each night
my heart alights
and sings 'there is still hope'.


This hope, I know, is awfully strong,
and I must learn to trust it,
for our lives
were intertwined
before these words were writ.

Connections made some years ago
that then I did not realize
bring us here
with little fear
of possible demise.

I do not know the things you feel
and I can't unless you tell.
These sweet words
sing just like birds
my thoughts, clear as a bell.

As I end this rhymy poem
the sun comes out from above.
Nice and warm
it takes its form
and my heart fills with love.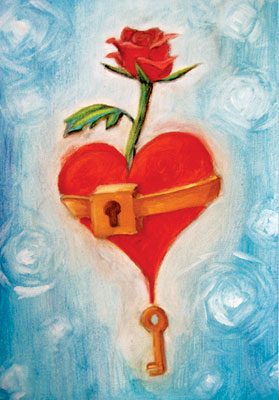 © Louisa L., Pleasanton, CA