Darkness Before Dawn
September 3, 2015
Dead, rotting bodies littered the path at Fort McHenry; it was a cold, blustery day
The soldiers' hope was vanishing fast, they'd even lost the urge to pray
They'd grown so weary of battle, there was no strength left to fight
And amidst the blood and casualties lay old Sam, no longer waiting for the light
He painfully crawled to where his dying friend rested; he could feel his agony
The gleaming medals on his chest spoke nothing but of his chivalry
Old Sam held his quickly fleeing friend's hand, unashamed of his tears
These terrible wars had taken a toll on his body, he'd been serving for many years
A choking gasp for air escaped his friend's throat, he was quickly passing
The pain of the loss already filled his heart, he was beginning to think pain was everlasting
His friend breathed one last breath of exhaustion, and then was quickly gone
Old Sam felt his heart grow empty, this fighting and such was just too long
Oh how sad would it be for those children whose father would never come home
And what heartbreak would his longing wife feel to be so long and alone
How could God have allowed this to happen to someone who had served Him so selflessly?
Why were we serving in a war that doesn't even make changes for our country?
The sounds of bombing and shooting had died now; it was silent as a graveyard
Sam was sure the Union had lost; the Confederates had a much better ward
What was the point of so many sacrificed, how was it that nothing had been gained?
The war was just a useless effort, his past bravery seemed so feigned
Sam spread his calloused hands over the blood-stained ground, broken shells lying there
He would just give up and die, there was nothing left, not a single tear
As Old Sam lifted his weary eyes to see the sky one last time, he heard shouts of cheer
The darkness broke forth into the light of dawn, the gloomy clouds began to clear
As the magnificent sunrise sparkled all purples, oranges, pinks, and blues
The glorious sun burst forth in beautiful, golden hues
And then Sam saw so freely waving in the distance, a flag, his American flag
Red, the color his friend's blood had courageously spilled for his country
White, the color of the peace that would soon come for our nation
And blue, the color of the nobility and how men sacrificed their lives for freedom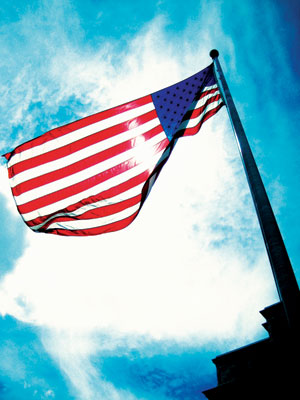 © Seita O., Palatine, IL