Romance In The Time Of Cynicism
April 20, 2016
When my lover sang out to me from the pink turret tower
I blushed a deep pink like a summer flower
And hid behind a bush,
Where the birds hissed at me to shh.
What is this? I mused aloud
A talking bird!
I must be seeing stars
The after effects of hearing my lover's sweet voice.
But then the ceiling of the sky
Began to open up and drop babies down onto the welcome mats of houses
And I gazed in surprise, eyes opening wide:
For was this not…impossible?
'So it would seem,' said the robin perched on my shoulder.
Startled, I gave a roar like the wind
And the birds shhed me again
And said I had let the clouds go to my head.
As I glanced all around me
Suddenly the pink flowers transformed to a rotting green
And the moss brown floor was ridden with worms
Who nibbled on my bleeding toes.
Boom! A crash as the moon landed on the ground
Cracking the earth in two
And twisting my brand new shoes
As I cooed and I called for my lov-er.
But he was nowhere to be seen or heard
And outpoured a torrent of rain
From the stormy ocean above my delicate gold hairs;
And I cried with the rain, I leaked out my love.
I even tried pinching my arm;
But to no avail;
The world continued to crash and fall,
Dragging me into the depths of a greedy black hole.
I dug my fingernails in the red brown dirt
Yet a hand clutched my ankle, and dragged it thus,
Pulled screaming, lovely Rapunzel hair all mussed up,
I was taken from the land of my dreams
and lurched to a hideous reality.
"Katie! Katie!"
I sat up, startled:
My mother was shaking my arm, hard,
And wailing about me missing
my stage performance of Cinderella,
And how the beautiful bard who played harmonies like a pianist
Had had to take my place,
While I lay dreaming in space.
Disoriented, trembling,
I snapped on the yellow light;
It filled my sight,
And I glimpsed the sheepish smirk on my pink face:
Finally, all was cynical and right.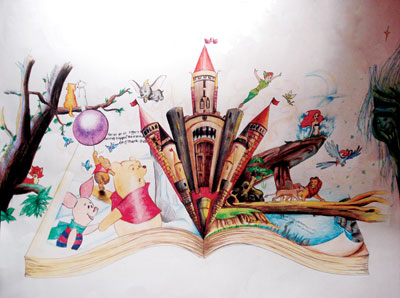 © Shirley L., Chino Hills, CA