Creativity, Loneliness, and the Impossible Pain of a Breakup
August 3, 2019
Maybe my best stuff comes from pain.
From an insurmountable pain and feeling in my mind.
From the dark times when few people stay and where some get hurt.
Lines flow from my mind onto the paper,
easier than a blade to skin.
At least writing is my first instinct.
But maybe my creativity thrives in
my miserableness:
My late(r) nights,
My (almost) endless tears,
My (constant) self-loathing.
Does this mean I have to be unhealthy to write?
To be creative and let words flow,
(finally),
do I have to suffer?
Do I have to see my life fade away until everything is just pain?
Is my mind just driven by pain?
Did I really have to lose you to myself...
for me to feel no better than before?
Did I have to lose a best friend?
A love?
A partner?
I guess we all know the answer to that...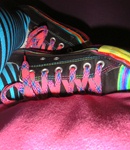 © Melanie R., Milpitas, CA