Night's Forest
July 21, 2021
Night dons her midnight cloak,
Sprinkling silver stars across its rippling folds.
She watches as her forest comes alive,
Screeches and howls and chirps and growls
Sounding out a melodious symphony.
Night swishes her onyx skirts,
Sending shadows that dip and dart down below,
As they tell the fox
The secrets of the hare.
Night waves her bejeweled fingers,
Summoning the sunless creatures to her court.
They dance and sway beneath her stars,
Lit by the glow of flickering fireflies.
Night calls her beloved wind,
Sending him to steal
From the trees and the creek and the flowers,
That owe allegiance to her bright sister.
Night invites the moon to waltz,
And they dance with ethereal grace,
Spinning beneath lacey leaves
Until the jealous wind hides the moon away.
Night sings, cold and clear,
A wicked sound that rings through her kingdom.
Her subjects pay a heavy tithe,
Hunting and prowling through a forest
That is only theirs until
Lady Sun rides across the sky,
Banishing Night back to the shadows,
Where she waits for dusk.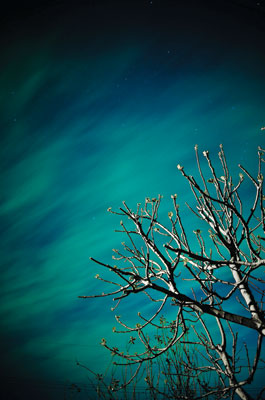 © Chyi-Dean S., North Tustin, CA