Cambridge Heights
February 4, 2022
Mid January,
So dull, so dark.
Every day fades together.
My mind drifts,
To the entrance,
Of an unknown place.
An old wooden sign titles this realm,
Cambridge Heights.

As I step in,
I'm blinded by pure sunlight.
I peer up to the sun,
Not so yellow,
But more of a Hollywood gold.

Stumped by the realization of no others,
I wander through this place,
Confused but at peace.
I stumbled across a road,
It's name shimmered in light.
"Freedom Trail"
But a warning followed,
Written in a tiny white font,
Barely readable,
"Enter only if you want to leave".

Suddenly, I felt my feet below me,
Twist completely around and lead me away.
Time began to fly as I forgot about that trail.
There were too many foods to try,
Banana cream pie,
turtle ice cream,
A giant pizza.
A kid's perfect day,
All together in one place.

Hours and hours passed,
And as the thought of work tomorrow,
Began to sneak it's way in my brain,
An angel's trumpet rang out from the sky,
A warning that it was time to go.
The bright world around me began to fade,
The buildings began closing in on me.
I darted to the once shimmering sign,
Not stopping this time to read it.
As I ran and ran,
I was suddenly back home,
In the dull and dark Mid-January.

This happened years ago,
A time that will too soon be forgotten,
But as I live my life in the real world,
The thoughts of Cambridge Heights,
Never leaves,
Because Cambridge Heights exists for all.
Because all were once children.

Cambridge Heights is our childhood.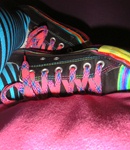 © Melanie R., Milpitas, CA