A Lesson Learned
October 11, 2009
I thought I was cool but I just looked a fool for so long.
Now you're gone.
Suddenly I'm all alone, pushed away for nothing
I thought maybe we were getting somewhere but we're still nowhere at all.
Don't you have the guts to say how you feel about me
Give it a chance for our love to start
But you'll never see if you don't give me a shot
Open up your eyes and see how wonderful our love could be.
You've got a face for your smile
Shame you waste it when you're breaking me slowly
Your darkness was my weakness.
In the twilight it's so hard to see what wrong for me.
I was so blind, but now I finally see everything you do to me
I tore the pages and I can finally breathe.
I fell through the hole down at the bottom of your soul
Im stuck under a rainy cloud.
I'll hold on tight and brace for cold.
Don't speak to me.
Don't be my aim.
There's a lot that you don't notice when you read between the lines
Our love won't survive
I don't know whether to laugh or cry.
And it cuts like a knife.
This has been no walk in the park.
Its out of my hands.
I've learned that love won't wait.
I have to get over you.
I have to do what's best for me.
At first I didn't know but now its clear to me.
You weren't worth my time so I'm leaving you behind.
I wonder will you care when I'm gone.
So bored with these games.
This is your rollercoaster we're on.

But I'm over it
Say what you want but don't play games with my affections.
Look at my face these tears aint drying.
I pray every day that you see things like I do.
But its too late to pretend.
I'm left in the dark and I never thought you'd be breaking my heart.
We ran in circles and wasted time.
I wish I could erase the past
Don't take my heart and put it on a shelf….
Nothing hurts like losing when you know its really gone.
I tried it your way but I have nothing to show.
Its been the same and the story's getting old.
Now that we've come to this end of the road we were on
For us its too late, let the credits start to roll.
Look at what you've done.
This soul you'll never see again
I need respect I need love and nothing in between.
Don't' remember what about this song I've ever liked.
Can't think of what I've learned right now but I'll be thanking you someday.
I'm going my own way
I had a world of chances for you
How long is it gonna take to see she's no me.
You're not winning til you're winning me
You're not worth the time that this is taking
Now I know who you are
You got nothing on me
You're just another picture to burn.
Adieu to you and all your games.
I wont be back again.
Minus you I'm better off.
I'm much to full of resentment.
I'm gonna give my love to someone else.
This is the end
This is goodbye.
Yes I was burned but I call it a lesson learned.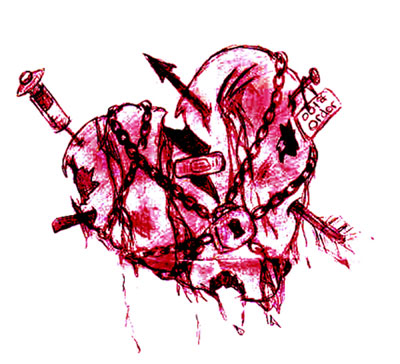 © Asia B., Hudson, MA