Beautiful Child
October 27, 2009
Beautiful Child

What a beautiful child.
A beautiful child with the most beautiful smile.
The beautiful child has a unique style.
So innocent!
What a gorgeous beautiful child.

Long, black hair pulled into a bun.
Beautiful child with her long, beige, flower dress.
She's unresponsive looking up at the sun.
I approached the unresponsive, beautiful child.

I looked the child deep in her eyes.
The child looked surprised.
Something tells me that she's not a happy child.
I see sadness.
I feel a dark presence.
But yet she's the most beautiful child I've ever seen.

I notice something strange about her.
She seems unstable and appears hurt.
I try to communicate, but she doesn't speak a word.
I want to be the beautiful child's friend.
But she won't let me in.

I want to know what's in her heart.
But I don't know where to start.
I studied the child closely searching for something.
I notice her dress is way too big and appears not clean.
I'm suspicious at this point and than I spot something shocking.

The child has bruises on her arms.
Now I'm instantly alarmed.
Now I can see what's going on.
The child now has tears in her eyes.
I'm so stunned, now I have tears in mine.

I gathered the child in my arms.
She cries on my shoulder.
I have to remain strong.
I have to help her.
I tell her I'm her friend.
I will let nothing more happen to her.

I will keep the beautiful child safe.
Take her away from a dangerous place.
This child deserves better.
I will fight to make sure she get's better.
My beautiful child!
I will never let you down.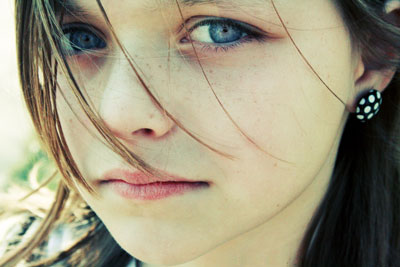 © Felicia R., Arlington Heights, IL