Dignity
October 30, 2009
I'm not gonna cry and beg you why.

I won't go on my knees and plead.

That just not me.

I'll hold my head high, and never let you know that what you did hurt me.

I refuse to let your words burn my core, 'til I fall into tears.

I know time will not stop for my pain… besides, it would only be your gain if I sit here wallowing.

So, I will swallow my despair… and go on with life like I have no cares.

I wonder if you notice that I still shiver when you stare.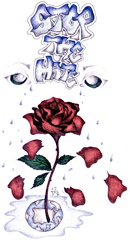 © Diana G., Phoenix, AZ