Spread Your Wings Like Your Going to Fly.
December 14, 2009
Do my eyes deceive me,
have i rally been this blind?
Are we really over?
I didn't think you were that kind.
You told me that you loved me,
and that cheaters never win.
But your lies become known to me,
now we all know of your sin.
The tears that formed because of you,
made me realized that terrible shock.
Numb-i lay awak in bed,
putting on my heart-a lock.

I asked you why you did it,
but you stared right past my eyes.
Blowing smoke into my face,
you cough up another lie.
I want to scream and shake you,
why won't you answer me?
Are you scared of judgement,
will you open your eyes and see?

I tryed to walk you toward the light,
but your eyes couldn't adjust.
Your visions getting blurred,
if only you learned to trust.

I'm watching you from a distence,
as you still continue to fall.
I wish that I could save you,
as you walk like a zombie through the hall.

All my hopes are drowning,
as you light another hit.
Inside my heart is breaking,
and you don't care one bit.
Let me burn that picture you have,
the one thats in your room.
I think your too connected to it,
that girl is in a tomb.
You used to smile and glow with warmth,
but now your core is cold.
Your breath comes out in cloudly puffs,
as the years start to unfold.
You can try to "cure" yourself,
pop all the pills you want.
But you past won't disappear,
remember-memories come back to haunt.

Let me help you forgive and forget,
all those long years of pain.
I'll help you find yourself again,
and a way to break your chain.
Let me in and let me see,
the scars you hold to heart.
Or go to your room and cry alone,
your missery's off the chart.

And if you won't accept me,
I'll throw away the key.
But if you let me in for once,
can I finally set you free?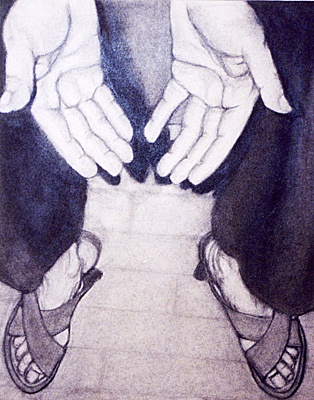 © Daniel R., Cicero, IL