Do I Dare
March 4, 2010
The warm sun beats,
Upon his lovely face,
Golden hair shines,
In the morning light,
A light breeze ruffles his hair,
I think to myself,
Do I dare?
Do I dare touch his beauty?
Do I dare to be with him?
As I stare into his deep blue eyes,
I realize that I'm hypnotized,
Entranced by his beauty,
That I dare not touch,
For fear of being burned,
For fear of broken heart,
I do not dare.
But if it were different,
Were the times different,
Were we not here where temptation so strong,
I'd be his,
I'd be his moon in the midst of the night,
His light house in a fog guiding him home,
His savior,
But it is not another time,
Nor another place,
It is still now,
And now he is staring at me,
As if I could magically make things right,
Save his life,
But I'm not his savior,
Just his demise,
And nothing will change what cannot be undone,
So I dare not try,
For the fear of losing him forever,
Shines through in my mind,
As clear as any other thought one might have,
But God knows I love him with my heart,
My soul,
And that one day,
Maybe in another lifetime,
He will be mine,
Forever,
In life,
And in death.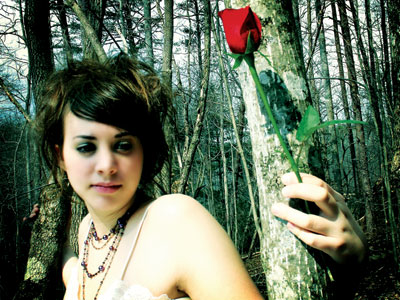 © Michelle B., Blairsville, GA