Warmth
May 4, 2010
I feel Warmth in her presence.
Something I haven't felt,
In a longgg time.
And these feelings,
I am immersed in these amazing feelings.
Butterflies flutter in my stomach,
An occasional cold chill
Down my spine.
She gives me strength,
She gives me meaning...
Strength to change this cold heart,
And the meanings to do so
In her Warmth.
They say a broken heart may never be fixed...
Who ever said there
Weren't exceptions?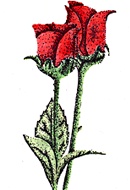 © Sarah M., Phoenix, AZ