Fallen Voices
August 23, 2010
Free Falling

Sometimes I'm skeptical
Of certain things
Just because of how they appear on the surface
No one can say they don't entirely agree
It's true I know
True for all of us
No matter how hard we try to hide what really is.
Whenever you blink
You're loosing that hundredth of a second
When you could have been seeing the amazing things
sitting right in front of you.
And I think about these things
They play over and over in my head
Their melancholy rhymes dissolving anything else.
I tried to erase what used to be
But somehow;
Never
Will I forget
Who I first loved
And keep wondering why he never loved me.
My Lilies
Today I am trying my best
To move on and forget about him
I take petals off of a silver flower
And tear drops roll down my cheeks while I whisper
Each petal peels away
Silent and without question
So eerie is the nothing that I cannot bear to listen
Dropping petals against water
As smooth as glass
Tiny ringlets appear around where the petals have landed
And then fade
Back to a cold, clean mirror
I look at my face
It is grayed and forgotten
Begging to be made new
But I turn my face; I can no longer look
Leaving the stem unattended to
Alone in the sand
Alone
Alone like you left me.
Forget
I kneel to the ground
The grass hardened and brown
Shriveled from the cold wind
Rushing along and past it day after day
It prickles my feet
Which are bare but never blue
My face falls into my hands
still damp from the water of the lake and cold as they always are.
Still unable
To find any way to tell you or to explain
Ashamed am I
To have to hide my face
The face that smiled; the face that laughed
Along and with you
For that time when I thought everything would be okay
It was my entire fault
I let it pass without realizing it would never stay
Now it is long past gone
And so are my smiles,
My laughs my words
I want to be with you
But you must not want to be with me.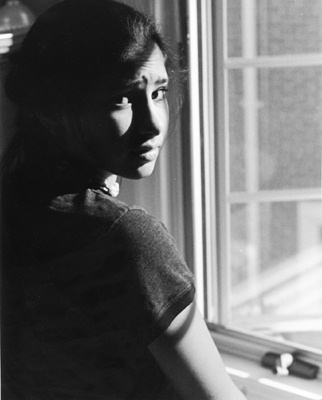 © Jennifer H., Bethesda, MD